Las Piñas-Parañaque Nature Reserve Eyed as Manila Urban Tourism Destination 
A Senator said that she wanted the nature reserve situated south of Manila Bay, the Las Piñas-Parañaque Critical Habitat and Eco-Tourism Area (LPPCHEA), developed into an urban tourism destination in Metro Manila.
Sen. Cynthia Villar, chair of the Senate Committee on Environment and Natural Resources, said the promotion of LPPCHEA is timely given the plan of the Department of Tourism (DOT) to revitalize urban tourism.
"We want the public to know that we have a place in Metro Manila where they can commune with nature and at the same time take part in activities for the conservation of this important habitat," Villar said.
Villar pointed out that the LPPCHEA offers a "unique experience" where visitors are encouraged to participate in volunteer activities such as cleanups, tree planting and watering, while appreciating the wonders of this site.
She also expressed hope to have more government support for the protection of this 36-hectare mangrove forest citing the 2012 study conducted by the University of Cambridge, which showed that mangroves slow down the flow of water during storm surges and reduce the damage in coastal areas.
LPPCHEA is the 6th Ramsar site in the Philippines under the Ramsar Convention list of Wetlands of International Importance because of its vital role as a coastal urban wetland and bird sanctuary within Metro Manila.
It covers 175 hectares of wetland ecosystem and declared a critical area by virtue of Presidential Decree Nos. 1412 and 1412-A. It is also an identified spawning area of fingerlings.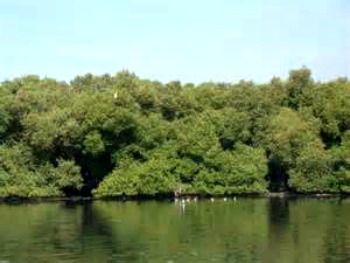 Las Piñas-Parañaque Nature Reserve
It is home and known breeding area of the Philippine Ducks, a vulnerable specie as listed by the International Union for Conservation of Nature and Natural Resources.
Chinese Egret, Common Greenshank, and Black-Winged Stilts can also be found here along with 82 other wild bird species coming from as far as China, Japan and Siberia.
Six other areas in the Philippines are identified as Ramsar sites, namely:
* the Puerto Princesa Subterranean River National Park in Palawan;
* the Tubbataha Reefs National Marine Park in Sulu;
* the Agusan Marsh Wildlife Sanctuary;
* the Naujan Lake National Park in Oriental Mindoro;
* the Olango Island Wildlife Sanctuary in Cebu;
* and the Negros Occidental Coastal Wetlands Conservation Area in Negros Occidental
According to Villar, the Tourism Infrastructure and Enterprise Zone Authority (TIEZA) Board of Directors has approved the budget of PHP45 million for the conservation of LPPCHEA, including the construction of the Wetland Center, Birdhives, Boardwalk and View Towers at the Long Island.
The Department of Environment and Natural Resources (DENR) has also appropriated PHP10 million for the construction of the Visitors Center and Boardwalk at the Freedom Island and the installation of water and electrical facility. (PNA)JBP/Azer N. Parrocha