Lapu-Lapu City Opens Another Eco-Tourism Attraction

The Lapu-Lapu City government has opened another eco-tourism attraction in Olango Island off Mactan Island.
The Eco-Tourism Park in Sitio Asinan in Barangay Sabang will benefit at least 24 families.
Lapu-Lapu City Mayor Paz Radaza said the park does not only attract tourists since it also provides income to the residents in Asinan.
"Tourism is the backbone of our local economy. It is one of the prime movers of our city towards development," Radaza said.
Jimmy Gloma, office-in-charge of Lapu-Lapu City Cooperative and Livelihood Resource Center, said that women are trained to cook and prepare food for the guests while men are trained to tour tourists while riding on a boat.
Last year, the city government had launched its first tourist spot dubbed the "Olango My Getaway."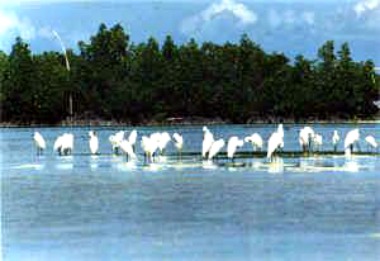 Olango Island via malapascua.de
Gloma said families under the community-based eco-tourism program were educated about the importance of protecting the environment.
"We are closely coordinating with the Department of Environment and Natural Resources to make sure no environmental law is violated as we go on with the eco-tourism project," Gloma said.
The park has an entrance fee of P15, according to Gloma, while guests can avail of the tour of the mangrove area on board a boat for P30 for 30 minutes.
Gloma said that guests are encouraged to plant mangroves at the newly opened Eco-Tourism Park.
He added that if tourists decide to stay overnight at the park, they can rent a tent for P100 for eight hours.
"We are charging low rates because we want local and foreigners to visit the community and help the residents and environments," Gloma said.
The city has allocated P130,000 to set up souvenir shops where tourists can buy local products.
One of the features at the park is the bamboo bridge.
"Residents wade through the seawater during high tide to get to the main road," Gloma said. (PNA)LAP/EB/EDS