La Union Surfing Break Set to be Bigger and Better According to DOT

An official of the Department of Tourism in Region 1 (DOT 1) has expressed hope for a better La Union Surfing Break, during the launch of the annual surfing event.

Dubbed "La Union Surfing Break," it will be held from October 26 to 28 here.

"We are looking forward to a bigger La Union Surfing Break, especially an increase in tourist arrivals", Martin S. Valera of DOT 1 said.
Valera said residents in the area, together with partners, are working hard to ensure its success as this is one of the cleanest beaches in the Philippines.
He said they clean the beach in San Juan two times a week.
"We are very proud of this surfing break since, we produced a lot of surfers. Likewise, it creates income for individuals who teach tourists how to surf as testimonies attested here, and I hope that media can entice their group to experience this big activity. It's more fun in La Union," Valera said.
Meanwhile, Rodolfo V. Yabes, president of San Juan Beach Resorts Association and chairman of the seventh La Union Surfing Break Management Committee, said this event would boost tourism and promote the "It's more fun in the Philippines" campaign of the DOT.
"A lot of various personalities came here including foreign and local tourist just to see and visit the place," Yabez said.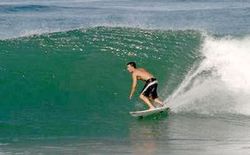 He added that people always remember La Union, especially San Juan, as the surfing capital in the North.
Yabes assured that visitors are secured because there are sufficient PNP personnel, coast guard, barangay tanod and Red Cross staff to respond in case of emergencies.
Highlights of the three-day surfing break include surfing competition, beach volleyball games, contests on sand sculpture, surfboard painting, kite-flying, photography and creative dancing, among others.
There will also be a fun run and martial arts exhibition, Yabes said.
The surfing break is a multi-sectoral tourism project led by the provincial government of La Union; DOT-1; municipal government of San Juan; La Union Hotels, Resorts and Restaurants Association; La Union Conventions and Visitors Bureau; San Juan Beach Resorts Association and La Union Surf Club.(ANL/Monette H. Herrera-PIA 1 La Union)