La Union: The Destination of Choice for Fun, Experience
La Union is one of the most popular tourist attractions dubbed as the surfing capital of Northern Luzon.
Not known to many, the province is also cradling other impressive and beautiful spots that are expected to boost the tourism industry because of the construction of the Tarlac, Pangasinan, La Union Expressway (TPLEX).
The road trip from Manila to La Union used to take five to six hours. Now, with the newly constructed TPLEX, which extends to Urdaneta City in Pangasinan, travel time has been reduced to four hours.
According to Nestor G. Rillon, the regional vice chairperson of the Regional Development Council (RDC-1) the road from Tarlac City to Urdaneta City is already highly operative. The Urdaneta City to Rosario, La Union section, meanwhile, is expected to be completed in December 2016.
"We can project that influx of tourists in the north will arrive once the TPLEX reaches La Union," said Rillon.
For visitors to fully maximize their stay in the province, they must come especially during summer time. Thus, here are some fun things to do in La Union which celebrities and famous television personalities like Jericho Rosales, Kris Aquino, Ruffa Gutierrez and Senator Teofisto Guingona III and Sec. Leila de Lima, among others have already experienced.
1. Surfing in San Juan – A visit in the province of La Union is not complete if you can't dance with its famous waves. Barangay Urbiztondo in San Juan, La Union is the nearest surf spot from Metro Manila.
For surf enthusiasts, best waves are from October to April. This is also the La Union's peak season for tourists, so be sure to book hotels early. Surfing lessons are also available at P400 per hour, inclusive of board rental and instructor's fee. Those who are already confident with their skills can skip the lessons and rent the board for only P200.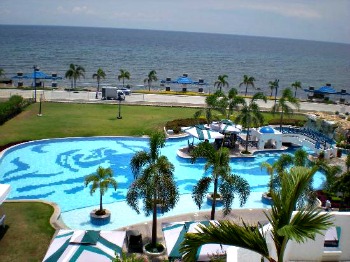 2. Tangadan Falls in San Gabriel – For friends and families who are fond of hiking and trekking, going to the Tangadan Falls in San Gabriel town must be in their to-do list. A one hour hike is needed to get to the awesome falls.
Locals who can be hired as tour guide suggest that it is best to visit the place during summer when the trail is less muddy, the stones are less slippery, and the current is more serene.
A fee of P50 per head will be collected to pay for the tour guide. After the draining long walk, magnificent clear waters will welcome tourists. For risk takers, they can jump off the cliff but it is not advisable for beginners and those who do not know how to swim. A "balsa" or bamboo raft can also be rented at P150.
3. Bahay na Bato - Tourists travelling to La Union can't miss visiting the humble town of Luna. One of the coastal towns of La Union, Luna has been one of the top destinations in the province because of its scenic "pebble beach."
Rocks and pebbles are lined up all the way to the sea and can be handpicked. These days, domestic and foreign visitors flock to the town because of house made of stone thus derived its name "Bahay na Bato", a two-storey house that is built with various rocks and surrounded with beautiful art from rocks and wood carvings.
Bahay na Bato collects minimal entrance fee of P20 entrance fee for adults. Kids who are four years old and below are allowed to enter at no cost. It is open from 6 a.m. to 8 p.m. daily.
4. Pugo Adventure (PUGAD)- If you want to take a break from beach life, head to Pugo Adventure also known as PUGAD found in the town of Pugo. It is a place full of adventure such as zipline, rappelling, 6x6 all-terrain vehicle rides, wall climbing, giant swing, paintball and target shooting.
Swimming can also be enjoyed by the whole family because of its six swimming pools at various depth from 3 feet to 8 feet high. The P150 entrance fee for kids and P200 for adults is worth it for the different attractions you can check and the refreshing feeling with your visit.
5. Grape-picking in Lomboy Farm - The Lomboy Farm in Barangay Urayong in Bauang town must have a place for travelers' itinerary when they visit the province especially in summer where grapes are at their peak season. It is a 15 to 20-hectare vineyard where 50 varieties of grapes have grown over time.
The usual family farm became a hit especially when it has been converted into a place of true adventure where tourists can derive pleasure from picking grapes of their choice. One kilo of grapes costs P200 to P250.
Boodle fight packages are also available which starts at P250 per plate for a minimum of 10 people should tourists want to feel longer the relaxing ambiance of the grape farm. Recently, the farm has been promoting and selling various high-grade varieties of fruits like apple-guava, papaya, mangoes, and dragon (MCA/Joanne Namnama P. Dilim PIA1-La Union)