Air Asia to Launch Kuala Lumpur-Boracay Flights

The Philippine Embassy in Kuala Lumpur welcomes the increased air connectivity between Malaysia and the Philippines in light of the launch of Air Asia's flight Kuala Lumpur- Kalibo route, which will commence on April 18, the Department of Foreign Affairs said.
"The Embassy considers tourism as a major factor in promoting and developing Philippine-Malaysia relations, notably in our people-to-people engagement.
As we move towards the attainment of the ASEAN Economic Community in 2015 and as close neighbors, it is high time for Malaysians and Filipinos to meet, engage and get to know more of each other's peoples and countries.
With this new route, this will be further realized." Philippine Ambassador to Malaysia J. Eduardo Malaya said during the launch held at the Hilton Kuala Lumpur.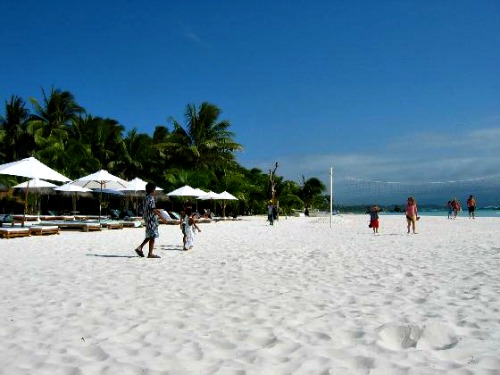 Boracay, Philippines
The Air Asia flight from Kuala Lumpur is the first direct international flight to Kalibo. The route will enable more Malaysians to experience the bustling beach life of the island of Boracay, which captured the number one spot in the "Best Beaches in Asia in 2013" survey conducted by TripAdvisor.
The Kuala Lumpur-Kalibo route is AirAsia's third Philippine destination and will fly four times weekly, along with its other direct flights from Miri and Kota Kinabalu, respectively.
"I have been to Boracay myself- and with its pristine waters, white sands, the bustling beach life, it is indeed one of the world's best beaches. I also recall a recent conversation I had with a senior Malaysian government Minister, who had visited Boracay for his wedding anniversary. He told me that he and his wife thoroughly enjoyed their stay and inquired if there is now a direct flight, as they would like to go back. Thank you, Air Asia, for making this travel so much easier," Ambassador Malaya stated.
"Aside from the places they visited, what lingers in the minds of travelers after their stay in the Philippines is the warmth and hospitality of Filipinos. I hope the Malaysians are excited enough to plan ahead to pack their bags, sunglasses and sarongs, stock up on sunblock and visit Boracy through AirAsia" he said.
Air connectivity has significantly increased between Philippines and Malaysia in the recent years. Malaysia is Philippines' 11thmajor tourist market with 109,437 tourists visiting the Philippines in 2013.(DFA)