GenSan Braces for Kalilangan Festival 2015

The 2015 Kalilangan Festival is definitely another interesting milestone to look forward to this year, not just that it will be grandest for sure but more so it is meaningfully festive.
The Kalilangan Festival, as far as James Catalan, station manager of RPN-DXDX can remember has always been festive in its own best way.
"It is festive in the sense that it has always been a celebration of heritage and culture, bringing the Muslims, the Christians, and the Indigenous People together to rejoice in their respective distinct culture aside of course from the colourful costumes and the activities," he noted.
Last year's Kalilangan highlighted the diamond year anniversary of General Santos City further taking pride in its untarnished tri-people culture at its peak.
This year, organizer Ramon Magsaysay Memorial Colleges (RMMC) announced that the theme revolves around: "Kultura Ko, Identity Ko."
The theme, according to the RMMC management is identical to last year but with "added flavors" to suit in today's different genre.
The new management of the Kalilangan Festival emphasized that it will still be a celebration of cultures mostly but reflective of how these significantly helped shape the present generation.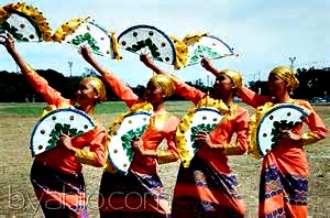 Kalilangan Festival via ahijo.com
For the last four years, the Mindanao State University-General Santos City (MSU-GSC) has co-managed the festival with the city government, with it always in the frontline.
Under its stint, Kalilangan Festival has won the Best Festival "Hall of Famer" award last year for the Culture and Arts-City Level category of Department of Tourism, having successfully retained its stature as the country's Best Festival-city level in the last three consecutive years starting 2011.
While the RMMC and the local government of GenSan have yet to clinch their partnership with a memorandum of agreement this month, the academe has already expressed its commitment to step up to the challenge of ensuring the success of the festival.
It has also conveyed its appreciation for the trust and confidence the city government has conferred upon the school management, especially for entrusting them the "fate" of the festival this year.
In this year's celebration, the festival organizer said it will "follow the regular course of activities" but with some more fun and excitement in store for both the young and the adult.
Under its watch, RMMC also said that it will seek alliance and partnership with other academes here to really strike a hundred percent success of the Kalilangan Festival, which will also mark the celebration of the 76th founding anniversary of GenSan.
Kalilangan 2015 will last for a week kicking off on February 23 until February 27, with a soft launching slated tentatively on February 9. The Flea Market, however opens on February 2, organizer said.
"This is Kalilangan Festival at 26th. How could this not get any good? I am really excited as it also means money from the business stalls the festival will allow to mount. I am in," businesswoman Xheryl, 30, quipped. (CT Apelacio, PIA-12 General Santos City/With reports from CPIO/Ian John Lagare)