The Jungle Restaurant and Entertainment Center

The Jungle Restaurant is located in Bagumbayan, Maribago, on the beautiful island of Mactan, Cebu, Philippines. Close to all the famous beach resorts of Mactan Island; White Sands, Tambuli, and Maribago Blue Water Resort.
The Jungle Restaurant and Entertainment Center offers a True Philippine Experience. The Building is very large, seating over 150 persons. The building is decorated in Native Filipino Style décor with Jungle paintings, coconut tree column designs, bamboo table and chairs.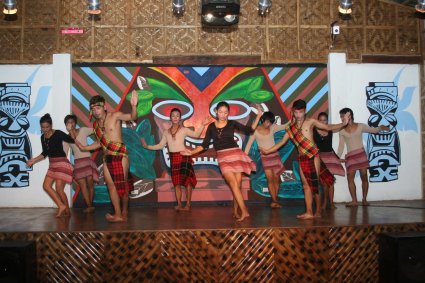 The Jungle Restaurant Mactan, Cebu
The large parking area will accommodate buses, cars, and vans. Located on the Main Road in Maribago, taxi service is easily available with a taxi lane for customers. The entrance is lighted with bamboo torches, giving you the feeling of entering a native type atmosphere.
The Jungle Restaurant serves native Filipino style foods, along with international dishes also. They offer buffet set up for large groups. The buffet is also native Filipino style with clay pots and wooden serving spoons. All meal served on a native basket plate with banana leaf.
The ala-carte menu is full of a large variety of all types of foods with combo meals that save money for the customer.
They have a full bar, offering all the liquors, spirits, mixed drinks, shooters, wines, juices, shakes, and of course all the wonderful local and international beers.
The shows consist of Filipino Cultural Dances, and International Variety Dances. They offer Filipino Dances from all three regions of the Philippines, which include Subi, Salip, Palok, Liwa Liwa, Fan Dance, Tinkling, Sinulog. Variety Dances include dances from Hawaii, Korea, Japan, Philippines – Cebu. And Magkauganay, Egyptian, along with many others. Other special performances such as Arnis ( Native Filipino Stick Fighting Exibition) Folk Music, and Ethnic Folk Dances, Snake Dancers (dance with live Philippines pythons).
THE MAIN ATTRACTION EACH AND EVERY NIGHT
The Jungle Fire Dancers. (Eating, breathing, spinning balls of fire, twirling rods of fire). They are proud to be the ONLY business on the Island to Offer such a mix of dances, along with the only business who proudly has nightly FIRE DANCERS.
THE JUNGLE RESTAURANT AND ENTERTAINMENT is open 7 days a week, starting at 12 noon for lunch and continue until 12 midnight.
Lunch Show Time:
12:30pm (one showing only)
Dinner Show Times are:
1st show 6:30pm, 2nd show 8:00pm, 3rd Show 10:00pm each night 7 days a week. Shows last approximately 45 minutes to 1 hour.
Agency's and Tour Guides welcome, and also walk in customers are very welcome. Prices start at P250 up to P700 for combo meals, and ala-carte prices are very fair and reasonable.
Come and Experience the Philippines, with The BEST FILIPINO CULTURAL / VARIETY SHOWS ON MACTAN ISLAND, CEBU, along with the best food you will find anywhere.
THE JUNGLE RESTAURANT AND ENTERTAINMENT CENTER
Bagumbayan, Maribago, Mactan, Cebu
Office – (6332) 238 8641
Philip Patrick – (American – Owner) - 09159624566
Florence Patrick – (Filipina – Manager) - 09158249690
Email - thejunglecebu@yahoo.com
Pictures @ www.friendster.com - search - thejunglecebu@yahoo.com