Ilonggo Hospitality Attracts Tourists
The warmth of Ilonggo hospitality is one reason why many tourists keep coming back to Iloilo.
Hoteliers in this city said that the biggest tourism asset of Iloilo City are its loving, caring, and genuinely hospitable people.
Susan Mercedes Romero, group general manager of Amigo Terrace Hotel here, said the Ilonggo way of service is a primary attraction why visitors from local and abroad are delighted to stay in this southern city.
"The Ilonggo way is always loving since we are dubbed as the city of love. And the way they talk is malambing (affectionate)," she explained.
However, she said that Ilonggos never rested on these qualities to lure tourists but constantly tap their creativity as tourism in Iloilo is continuously growing.
"They have become creative, tapping potentials for investments and improving presentation of tourism destinations such as heritage houses and churches," she said.
She emphasized how the Department of Tourism (DOT)-6 has been very instrumental in pushing the region's tourism industry to greater heights with increasing tourist arrivals and growing investments.
"DOT-6 has always been working hard to promote Iloilo and the region. That per se is one of our resources of clients," she said.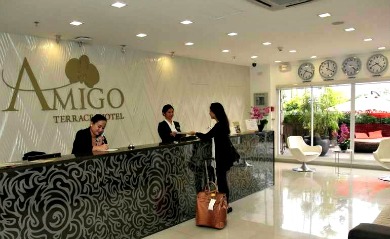 Ilonggo Hospitality Attracts Tourists
She said that it is also advantageous to be an accredited establishment by DOT because it entails a number of privileges and benefits that help their business.
She also said that they are patron of DOT seminars and programs which keep them abreast with updates on how they could make their activities aligned with DOT thrusts including developing tourism trips and packages for guests who would like to visit Iloilo.
"We also took part in the business mission in Singapore and Malaysia in 2014 spearheaded by DOT-6 which promoted Western Visayas to these countries," she said.
She said that the business mission enabled them to establish business connections with travel agents and service providers from both countries.
"In fact, at the end of that year, the crew of the Asian Food Channel stayed with us while they shot their program in Iloilo," she said.
She also said that hosting the APEC (Asia Pacific Economic Cooperation) meetings here in 2015 boosted the local hotel industry and she expressed optimism that this will continue this year.
"The APEC events challenged us to be good in providing the service that they want and the support that they need," she added. (JCM/ Leonard T. Pineda I/PIA-Iloilo)