Promoting Ilocos Sur Tourist Spots as a Haven for Water Sports Adventure

Ilocos Sur is not only known for its historical landmarks such as the Vigan Heritage Village but also its fine beaches that attract foreign and local tourists.
Governor Ryan Singson has embarked on tourism strategies to boost this popular industry through the water sports fest "Sun Soaked Festival" in various coastal areas.
The beach fest last Jan. 9-11 featured various sports tourism such as dragon boat racing and kite boarding at Poro , Magsingal; surfing at the historic Sabang in Cabugao; Beach Volleyball and Frisbee at Cabugao Beach Resort, considered the "Boracay of the North."
Last year, the "Kabaybayan Festival" highlighted the surfing competitions at Sabang with popular surfers in Northern Luzon and Visayas, boat racing in Sta. Maria and scuba diving in the coastal town of Santiago. This paradise island is an ideal place for International Surfing Competitions, according to surfers from Boracay who visited the place.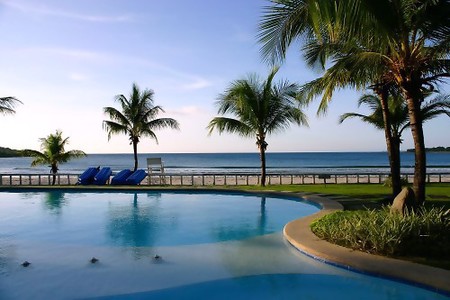 Cabugao Beach, Ilocos Sur
Cong. Singson, who initiated the " Cong. Ronald Singson Basketball Tournament" in the First District last year, said that beach volleyball in coastal towns inviting popular volleybellers from various universities and Colleges in Metro Manila can boost the tourism industry.
A volleyball clinic will also be held to promote the sports among high school and college students including out-of-school youths in various towns including the Heritage City of Vigan.
The famous Banaoang River between Bantay and Santa will serve as adventure zone overlooking the panoramic Mt. Caniao which will also be a tourist attraction. The old Banaong bridge will be retained in its old post as historical landmark and tourist attraction. Tourist boats floating in the middle of the river will serve as floating restaurant
The Salomague Port, an island covering 1,109 hectares in the historic Cabugao, which is now the unloading port of commercial fishing vessels has a great potential for tourism to attain an economic growth that provides productive employment opportunities.
Foreign and local tourists have not discovered yet the finest beaches in this agricultural province famous for its Virginia tobacco but with the Sun Soaked project, uncharted places will be exposed for tourism purposes which will also create employment to local residents especially fisher folk.
The water sports fest will also boost the government's campaign against illegal fishing and black sand mining to protect the eco system and to lessen the impact of climate change. (MCA/Ben P. Pacris-PIA Ilocos Sur)