Relax and Rejuvenate at Fuego Hotels in the Philippines

Fuego Hotels in the Philippines are a collection of prime properties and luxury resorts and Philippine hotels that redefine the finest in hospitality and living.
Set in unique destinations and as institutions of heritage, each Fuego-managed property is beset with their own flair of character and individuality.
Spread out in breathtaking destinations in the country, Fuego currently manages Club Punta Fuego in Nasugbu Batangas, Pearl Farm Beach Resort in Samal Island, Davao and 7Stones Boracay Suites in Boracay, Aklan.
Fuego Hotels in the Philippines - Club Punta
Get some much needed sun and rest & relaxation at the energizing peninsula of the exclusive Club Punta Fuego, an exclusive resort in Nasugbu Batangas, where unspoiled beaches and a vibrant summer culture produces a mind-boggling array of special events in the clubs many facilities from the Nelson Howard – designed executive golf course, the Punta Fuego Yacht Club to the white sands of Terrazas Beach Club. It should come as no surprise that diving, sailing, golf and water-sports are prime activities in this luscious Nasugbu hotel.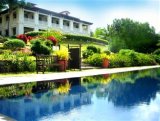 Fuego Hotels in the Philippines - Pearl Farm Beach Resort
Blessed with pristine white beaches and a picturesque island landscape, the world-renowned is a haven where bliss calls. Leave your worries behind and escape to the serenity that surrounds this breathtaking resort in Davao.
Experience a restful escape in its quaint guestrooms and villas perched on the water. Stretch out under the sun in the private white sand beach of Malipano Island or cool-off at the infinity pool. Go diving and discover hidden treasures under the waters around the island or have a soothing massage in the comfort of your own room.
Fuego Hotels in the Philippines - 7Stones Boracay Suites
Long stretches of white sand, seaside suites and luxurious amenities awaits guests at 7Stones Boracay Suites. This brand new boutique hotel in Boracay boasts of stunning Budji Layug designer suites, tropical gardens, and breathtaking sights. Guests will get to enjoy its above-par facilities and superior service. The moment you set foot inside the plush Boracay boutique hotel , a 25 meter lagoon type swimming pool with a Jacuzzi and a kiddy's pool greets you.
The swim-up pool bar offers a wide variety of refreshing cocktails, while the al fresco restaurant, 7th Note, serves both local and international cuisine for those with distinctive palates. Located at the famous surfer's paradise otherwise known as Bulabog beach, thrill-seekers and adventure lovers have an array of leisure activities to pick from. In 7Stones Boracay Boutique Hotel, the possibilities are endless! (Fuego Hotels Philippines)