Hotel Mactan - An Oasis of Tranquility in Cebu Philippines

Embark on an unforgettable journey through a cosmopolitan hotel Mactan Island, Cebu, Philippines.
Find yourself at incomparable Mactan luxury resorts, along the beautiful shores and blue waters of the island. Relax under the sun and enjoy your tropical vacation here in Cebu. Make the most of your vacation and indulge yourself with the great choices of hotels and resort accommodations.
3 Star Mactan Island Hotels
BE Resort Mactan
Escape from the hustle and bustle of city life and give in to the gentle charm of BE Resort Mactan. Relent to the promise of peace and quiet and have soft white sand tickle your toes while you take in the stunning expanse of crystalline blue skies.
Indulge in their Cebu resort's stylish accommodations while you simply recharge and get away from it all. Find yourself in a higher state of ecstasy as you experience BE Resort's award-winning and contemporary interior designs. Beyond the comfort and elegance of BE Resort's rooms is an extensive list of amenities that make your experience at BE Resort Mactan a memorable and pleasurable one.
BE Resort Mactan provides accommodations that are suited to provide comfort with value for money. Also, enjoy complimentary breakfast, cable TV and private toilet and bath.
EGI Resort and Hotel
Cebu's prominence as the "beach capital" of the Philippines is known far and wide. Mactan Island is home to a number of world-class beach resorts and resort hotels where tourists, foreign and local alike, flock to all year round. Bestowed by nature with clean and pristine waters practically everywhere, Mactan also caters to budget-conscious Cebuanos and tourists with a dozen or so "smaller" beach resorts on the perimeter of the island.
Set slightly independent from the rest is EGI Resort and Hotel - the only condo resort hotel Mactan. EGI Resort and Hotel offers the best of both worlds - the quaint and exotic charm of a resort coupled with the convenience and the newness of condominium living. Only 10 minutes away from the Mactan - Cebu International Airport and less than 30 minutes away from Metro Cebu's shopping, entertainment and commercial district, EGI Resort and Hotel is truly the place to go. Catch a glimpse of the different views of Mactan at EGI REsort and Hotel.
Zodiac Pavilion - the Aquarius Restaurant, offers a enticing array of international and Filipino cuisine. Only the freshest seafood, fruits and vegetables are served. With a superior view of the sea, dining at the restaurant becomes a delightful sensory experience.
Days Hotel Mactan-Cebu
Days Hotel Mactan Cebu is spacious and has well-appointed rooms and suites designed for incomparable guest satisfaction.
At its highest point, the hotel provides a breathtaking view of both Cebu and Mactan Islands, creating a backdrop of picturesque elevation ideal for an awe-inspiring respite or special function.
All 127 rooms at this 3-star hotel are made to satisfy guests' needs.
Each room includes air conditioning, daily newspaper, desk, hair dryer. Also to be found at the hotel are room service 24hr, shops, elevator, coffee shop, laundry service/dry cleaning, and meeting facilities . With its commitment to service and attention on hospitality, you'll enjoy your stay at Days Hotel Mactan Island.
4 Star Hotel Mactan
Cebu White Sands
Cebu White Sands is a resort in Mactan Island, open since 1995, the resort was initially developed as an amenity to White Sands Resort Villas, a residential subdivision located right across the street.
It is now operating independently and has grown to be a favorite destination for locals and travelers alike.
Cebu White Sands at Maribago Beach is a resort development on the east coast of Mactan Island – where beaches are at their finest. It is an easy 15-minute ride from the Mactan-Cebu International Airport and a scenic 40-minute drive from the historic island of Cebu.
Immerse yourself into a real holiday feeling at Cebu White Sands, a Cebu beach resort hotel with a delightful blend of gratifying facilities and tropical beach coziness - A place where time can virtually stand still.
Waterfront Airport Hotel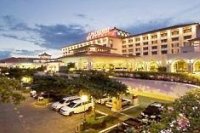 Cebu, the Queen City of the South, has a wealth of historical sites and exciting destinations. Waterfront Cebu City Hotel and Casino lures you to catch the sights and hear the sounds of one of the most exotic venues in Asia.
Feel the passion of hospitality for which Filipinos are world-famous. If your routine calls for the most convenient location, Waterfront Airport Hotel and Casino Mactan is the answer.
Located literally a stones' throw away from the airport terminal, Waterfront Hotel Mactan brings the hotel to your doorstep when you fly to Cebu, yet it is only 15 minutes away from Mactan's white sandy beaches and 30 minutes to Cebu City's business and financial district.
Crown Regency Suites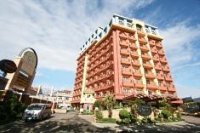 Grandly rising on a sprawling 1.5 hectare landscape is Crown Regency Suites. This world-class hotel Mactan, Cebu offers the comfort of home with all the amenities and facilities of an international hotel.
It is comfortably close to the Mactan Export Processing Zone II and is only minutes away from some of the world's best beaches and the Mactan International Airport. Discover the most well-appointed and comfortable accommodations in Mactan at the Crown Regency Suites. The well-appointed suites allow you to bask in total comfort and relaxation. In-room broadband Internet access and full-service business center allow guests to conduct business affairs combining basic functionality with elegant design and all the little amenities ensure your stay will be a truly memorable one.
5 Star Hotel Mactan
Shangri-La's Mactan Resort and Spa
The Philippines' foremost five-star resort, Shangri-La's Mactan Resort and Spa Cebu is a lush garden retreat ideal for vacationers and families.
This Cebu luxury resort features kid's play areas, a wide range of restaurants, and CHI, one of the largest and most luxurious spas in the region.
Shangri-La's Hotel Mactan Resort & Spa is located on Macatan Island, which is connected to the main island of Cebu by 2 bridges. Both Mactan and Cebu are home to many dazzling beaches and historic sites.
The province of Cebu is well-known for its natural beaches, sweet mangoes, rattan and buri furniture, guitars and costume jewelry.
Mövenpick Hotels & Resorts
Luxuriate in a stay at the Mövenpick Hotels & Resorts. This Mediterranean-inspired enclave is set on its own private beach on Mactan Island and offers white sandy beaches, year-round summer weather and extraordinary diving and snorkeling. Business is easy with three Executive Floors and an Executive Lounge. All accommodations feature high speed internet access. The resort is just ten minutes from Mactan International Airport and 25 minutes from cosmopolitan Cebu City, offering vibrant nightlife, extensive shopping and 24-hour casinos.
For an unmatched dining experience, choose from the hotel's 5 restaurants and bars, showcasing open kitchens designed by the renowned Dan Kwan. Stay active with a visit to the fully equipped health club offering a professional gymnasium, steam room and luxurious garden spa. (Formerly Hilton Cebu)
Plantation Bay
Set on 11.4 hectares of secluded grounds yet only 30 minutes from Cebu City, Plantation Bay Resort & Hotel Mactan offers one of the largest privately-owned waterways in the world, with the clean cultivated beauty of colonial-plantation architecture. Decompress from life's pressures in the healing tranquility of an environment that truly feels "away from it all." If you have ever spent time at a tropical plantation, you know what that means. If not, come and discover a refreshingly different 'Flavor of Life'. Whether you're traveling for a family vacation or romantic getaway, for business or pleasure, this is far and away one of the best choices in the Philippines.
Truly international. Opened in late 1996, Plantation Bay has already had over half a million visitors from every corner of the globe. Virtually all of them agree that this is one of the best resorts they've ever been to.