DOT to Lead Hosting of 2014 Hot Air Balloon Fest

The Department of Tourism (DOT) will take the lead role in organizing the 2014 Hot Air Balloon Festival.
DOT Regional Director Ronaldo Tiotuico said that Secretary Ramon Jimenez Jr. has given them marching orders to take the lead in organizing the ballooning event next year in tandem with Clark Development Corporation (CDC), Clark International Airport Corporation and Philippine Air Force 600th Air Base Wing.
Tiotuico said that after due consultation with private stakeholders and major players in the tourism and travel industry, "it was made clear that there is no better opportune time to fly these giant dirigibles than today when the country is experiencing one of its most challenging moments in its history."
The staging of the 2014 Hot Air Balloon Festival was earlier cancelled due to lack of preparations.
Noemi Garcia, tourism office manager at CDC, earlier said that festival organizer Joy Roa, the Armed Forces of the Philippines (AFP) and CDC have came up with a resolution to formally cancel the annual event, saying it was "too soon already for Hot Air Balloon Festival 2014."
Instead, Garcia assured hot air balloon enthusiasts to expect a bigger and better festival in 2015.
However, as a new development, it has been decided that the festival will be held April 10–13, 2014 at the Clark Freeport Zone.
"This event has become so huge and wide that it has to be supported by both the government and the private sector as it brings pride to the country as one of the more convenient places to fly balloons," Jimenez said in a statement.
The country's hot air balloon fest has been an annual event in Clark usually held during the third week of February for the past 18 years.
Meanwhile, Mitch Otsuru, president of the Hotels and Restaurants of Pampanga, said that hotel bookings for next year's event have already been confirmed as early as November 2013 when the announcement to cancel was made.
Otsuru said that some 100 accommodation establishments in Clark and Pampanga are already preparing for the influx of both foreign and domestic tourists during this time when even informal home operators and apartments are full.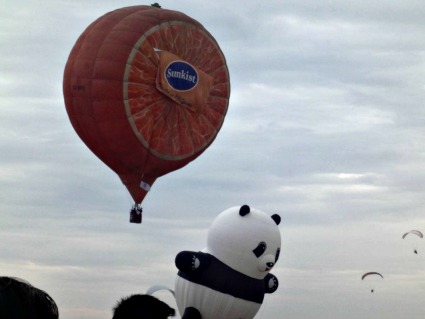 He said stage performances from a pool of local and national bands will likewise be featured as sponsored by San Miguel Corporation.
Daily fireworks display will highlight the night activities including a cooking competition courtesy of hotels and restaurants in the province of Pampanga and Clark.
"It's more than just hot air. It's a celebration of life in times of adversity, meaning more exciting and more festive activities will be offered to the general public while at the same time raising funds for charity missions and raising hopes of a better life for those impacted by the recent calamity," Tiotuico said.
For the first time, he said the event will be offered free of entry charge to the general audience.
Parking fee, however, will be pegged at P50 for cars and P100 for buses.
He said that part of the proceeds from the event will be donated to various charities like the reconstruction and rehabilitation of typhoon-devastated Leyte and Samar. (PNA)LAP/Zorayda S. Tecson/PS