Pagudpud Resort Opens New 3-Storey Premium Suites
A newly-constructed three-storey resort building equipped with luxurious, modern amenities is now open to visitors wanting to recharge and experience Hannah's Beach Resort and Convention Center's brand of hospitality in Pagudpud, about 85 kilometers from Laoag City.
Overlooking the immaculate blue lagoon, the 36-room premium suites beside a lush greenery of mountain cliffs is the latest addition to Hannah's 300-room executive villas and cavanas in this premier tourism destination of the north.
Amidst rain and cold winds, school children of Pagudpud with drums and lyre warmly welcomed guests and visitors as the latest baby of Hannah's was blessed and inaugurated on a recent Saturday afternoon.
A first time visitor in Ilocos, actress Megan Young, who was crowned Miss World in 2013, said if there is one thing that makes this Pagudpud resort standout is the "warmth and hospitality" of its people who are very attentive of their guests' needs.
"I will surely be back soon," Young exclaimed as she had a fun-filled Sunday adventure at the resort amenities on Sunday, along with other beauty queens namely, Kylie Versoza, Miss International 2016; Katherine Espin, Miss Earth 2016; Camille Hirro, Miss Global 2016 1st runner up; Ganiel Akrisha Krishnan, Miss Asia Pacific International 2016-2nd runner up; Jennifer Hammond, Miss Intercontinental 2016; Loren Mar Artajos, Miss Earth Philippines 2016 and Sophie Louise Rankin, Miss Global England 2016.
While surrounded with fellow beauty queens, Artajoz said gathering them all together at the resort and letting them experience what the resort has to offer is a "good marketing strategy" for Hannah's to be known more worldwide.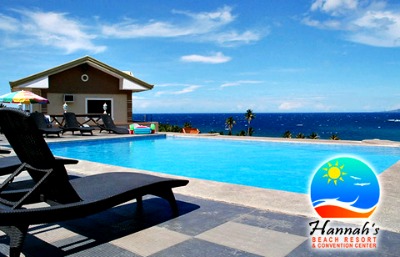 Hannah's Beach Resort and Convention Center, Pagudpud, Ilocos Norte, Philippines
Like Camille Hirro, who is now a third-time visitor at Hannah's said, "blessings overflow to Hannah's for taking care of its people and now it's business is growing."
All the way from Ecuador, Miss Earth 2016 Katherin Espin lauded the resort's eco-tourism advocacy citing it is what makes sustainable "if you start things with God and blessings pour in."
Sophie Louise Rankin of England said, "I had an amazing time at Hannah's."
While thanking sponsors for the visit, Miss International 2016 Kaylie Versoza from Baguio said a beautiful place like Pagudpud is something the Philippines should be proud of.
The Undersecretary of tourism advocacy and public affairs Katherine de Castro, who was invited as guest speaker, lauded the efforts of Retired Philippine Air Force, Col. Ricardo Nolasco of Hannah's for his contribution to the country's growing tourism industry.
All year round, de Castro said Pagudpud is a preferred tourist destination because of Hannah's brand of hospitality.
Known for hosting numerous local and international pageants, Nolasco said he chose to invite stunning ladies at the inauguration "because Hannah's is an icon of natural beauty and beauty begets beauty."
"We just want to show to the whole world that Hannah's is a beautiful place for family and friends. We have big plans for Hannah's and we would like to support the national government under President Duterte and the DOT who had been working so hard to promote Philippine tourism," said Nolasco in an interview after the resort hotel inauguration.
For his part, Pagudpud town mayor Marlon Sales said the expansion of Hannah's is always a welcome development for the people of Pagudpud because it means business is doing good in this part of the country. "If business is good, it also means more livelihood for its people and more revenue for the government," added Sales (PNA)FPV/LGA