Great Honeymoon Vacations - Cebu Awarded 'Best Honeymoon Destination'    

Great honeymoon vacations start with the 'Best Honeymoon Destination'
Cebu Philippines, was named 'Best Honeymoon Destination' at the Awards Night, of the recent World Trade Fair held in Shanghai.
The win was declared after a public vote and a strict evaluation process undertaken by professional jurors from the Shanghai Tourism Municipal Administration, VNU Exhibitions Asia, and Shanghai International Conference Management Organization.
The Philippine Tourism Secretary welcomed the award as a well-deserved tribute to the country's very own "Queen City of the South".
"As the second most visited destination in the country, next to Metro Manila, Cebu continues to draw more people to add to the 435,987 tourists that it posted in this year's first quarter. We are not surprised that more and more travelers, especially couples, are finding its pristine white beaches, romantic resorts and breathtaking views, coupled with the innate warmth and friendliness of our locals, a perfect treat for their great honeymoon vacations," he said.
Regarded as the most famous integrated travel resource, the World Trade Fair brings together hundreds of participating countries and organizations all over the globe.
In attendance in this year's expo at the Shanghai Exhibition Center were about 500 trade buyers from tourism association, outbound travel agencies and tour operators.
Added the Secretary, "For one of our provinces to be recognized at such a prestigious international event is a noteworthy indication of the country's growing tourism charm among many travelers across the world. It also opens an opportunity to further promote our sites."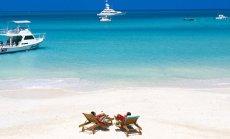 Great Honeymoon Vacations -
Cebu Awarded 'Best Honeymoon Destination'
At present, Cebu enjoys a steady influx of travelers, with top markets increasing in tourist arrivals by an average of 16% over the previous year.
Apart from Cebu's attractive sites and diverse excursion activities, Durano also acknowledged the country's competitive tour pricing and the continuous development of the transportation sector as influential drivers of tourism growth and offering great honeymoon vacations in the island-province.
Arlene Alipio, head of DOT Team China, shared that charter flights from Shanghai to Cebu and Boracay have helped spur inbound travel growth to Cebu, "Convenience of travel makes tourists more likely to visit the island and take more time to enjoy their stay."
Furthermore, she noted that regular flights to Cebu are also undertaken by Philippine Airlines (PAL) and Cebu Pacific twice a day.
Undersecretary for Tourism Planning and Promotions Eduardo Jarque, Jr. expressed enthusiasm and pride over the recent award bagged by the country, calling it "an affirmation of the country's world-class tourist spots and its unfailing efforts to reach out to new markets".
Last year's World Trade Fair, held also in Shanghai, had also been highly memorable and optimistic as the country clinched the "Most Popular Destination in Asia" award, the highest recognition given during the event.
Shanghai-based Philippine Tourism Attaché, Gerry Panga, said, "The Philippines has increasingly become a choice destination among its Asian neighbors as well as the world, owing to the relentless programs and campaigns that allow travelers to discover, fully appreciate, and enjoy great honeymoon vacations on our islands." (PNA)