Fly in and out of the Philippines via Clark 
Overseas Filipino workers (OFWs) in Mindanao and the Visayas, and tourists may now find it more comfortable to fly out of the Clark International Airport (CRK) as more local and international airlines have announced increased flights at the CRK, Clark International Airport Corporation (CIAC) president Alexander Cauguiran said.
"With the launch of domestic and international flights starting December by Philippine Airlines, increased flight frequencies by carriers such as Cebu Pacific and by other international airlines catering to OFWs, foreign-bound Filipino workers could avoid the monstrous traffic going to the Ninoy Aquino International Airport (NAIA) by flying through CRK," Cauguiran said.
Among the international carriers flying in and out of Clark are Emirates, which will resume its daily flights to Dubai starting December; Qatar Airlines, daily flights to Doha; Dragonair, Hong Kong; Tiger Air, Singapore; and Jin Air, Busan, South Korea. Cebu Pacific services Macau, Hong Kong and Singapore.
CRK is currently averaging 114 domestic and international flights weekly from these carriers.
Cauguiran said a one-stop-shop for OFWs has recently been set up near the CRK at the Clark Freeport Zone upon orders of President Rodrigo Duterte to provide for all the government services needed by OFWs.
In 2015, a total of 122,473 OFWs flew out of CRK. In January to October this year, 112,930 OFWs flew out via Clark Airport.
According to statistics, about 1.8 million OFWs fly out of the country on a yearly basis, for an average of 6,000 departures a day.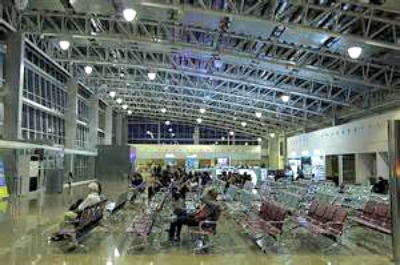 Clark International Airport
These are aside from returning OFWs who are coming home for vacation or whose contracts have ended.
Because of severe traffic, it usually takes as much as three hours to travel to the NAIA in Paranaque City from Quezon City, Caloocan and other cities in Metro Manila.
"CRK offers a less stressful departure and arrival point not only for OFWs and other travelers, that could also help ease traffic in Metro Manila, particularly on roads leading to the airport," Cauguiran said.
From Quezon City, it takes only about an hour of road travel to reach CRK via the North Luzon Expressway (NLEx).
Plans for a fast rail system from Metro Manila to Clark will make travel a lot faster, Cauguiran added.
Encouraged by the "Build, Build, Build!" development plans of the Duterte administration for the Clark Airport, an increasing number of carriers have recently either launched or increased their flights via CRK.
After a series of negotiations, Cauguiran recently announced the launch of domestic and international flights from CRK by national flag carrier Philippine Airlines.
Starting December 16, PAL will fly daily the Clark-Caticlan route.
By January, PAL will service Cebu, Davao, Cagayan de Oro and Busuanga. It also announced daily flights to Incheon, South Korea next year. (PNA) LAP/ZST/MDDR