Fly For Free to El Nido Resorts
Palawan, the country's cleanest province, offers a lot to local and foreign tourists during summer and even during the cold months.
The world famous underground cave, the crocodile farm and the famous beaches with clean water and white sands beacon a sizeable number of travels for leisure, business or honeymoon deal in a quiet and exquisite atmosphere.
This year, Palawan's El Nido Resorts, which is campaigning for increased Philippine tourism, said it wanted to attract local travelers during hot summer by giving them a special come-on until booking was full because of a limited time offer.
El Nido Resorts said it was offering local travelers a booking of free roundtrip ticket and discounts to enable them to visit the most beautiful place in the world this June to July.
"Have the best time in the world and spend your holiday on what both international travel magazines Travel+Leisure and CondeNast Traveler call the best and top island in the world respectively, with an offer to fly for free to the eco-sanctuary paradise of Lagen, or the eco-discovery island of Miniloc of El Nido Resorts in Palawan," said Brian King of the Communications department.
King said flying for free to Lagen island and Miniloc Island included a four-day, three-night accommodation for two in a forest room or garden cottage, with daily full board meals, use of snorkelling gear, use of non-motorized water sports equipment, regular island hopping activities and services of a marine sports guide.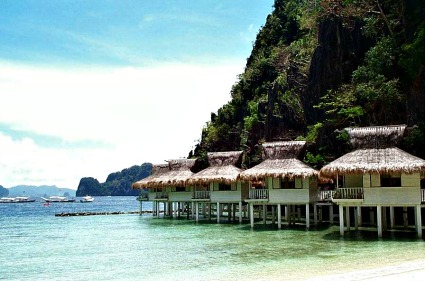 El Nido Resorts, Palawan
An addition is another one free roundtrip ticket via Island Transvoyager Inc. to El Nido per room booked.
The Package is at an all-in rate of Php 82,100 for the beautiful aerial view of Bacuit Bay at Lagen Island, and Php 72,000 for the iconic Blue Lagoon of Miniloc Island.
King said the promos are for local residents only and the rates are inclusive of 12 percent VAT and 10 percent service charge.
Prior reservations required, are subject to room and flight availability and restrictions and are non-refundable and non-rebookable. This promo cannot be used in conjunction with any other promotions and/or government-mandated discounts.
For inquiries and reservations contact El Nido Resorts at +63 (2) 813 0000, email at holiday@elnidoresorts.com from April 29 to May 6.
El Nido Resorts operates four eco island resorts on Miniloc Island, Lagen Island, Apulit Island, and Pangulasian Island. (PNA) RMA/Lily O Ramos