Flights to Siquijor Now Available; More Airport Improvements Coming up

Giving a boost to Siquijor's tourism, a ten-seater plane now offers flights to Siquijor from Cebu, Bohol, Bantayan and Camiguin Islands.
Mid-Sea Express' inaugural flight touched down at the Cang-alwang Airport at around 2:30 p.m. Aboard the plane was Capt. Ronan Vilanueva, an apprentice, Marketing Manager Gerard Olvis, and some media men from Cebu.
Key local officials led by Provincial Governor Orlando A. Fua Jr and Congressman Orlando B. Fua, heads of different agencies, businessmen and resort owners, and students welcomed the Mid-Sea Express Team in its first of many flights to Siquijor Island.
The flight RP-C1320, the Mid-Sea Express management said, flies Siquijor to Cebu every Friday and Sunday, and via Tagbilaran Bohol on Wednesday.
It has 10 seats, twin-engine low flying Islander that enables the passengers to capture an aerial view of the scenic spots, the management said.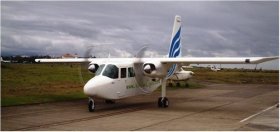 Flights to Siquijor by Mid-Sea Express
A Siquijor-Dumaguete route is soon to open as more and more Siquijodnons are seen frequenting Dumaguete City, its marketing manager said.
Meanwhile, Siquijor Governor Fua, tapping on tourism as a tool for development, said that he will allocate an initial of P200 thousand for the rehabilitation and improvement of the 800m-runway- Cang-alwang airport.
This he also bared during the maiden flight of the Mid Sea express to the island.
It is imperative to have direct flights here, Gov. Fua said as he assured that the airport is well on the way to better improvement.
But Fua said he is appealing to the present administration to help his initiatives in renovating the airport citing that the presence of air transportation to the island will obviously make the travel of businessmen, tourists and locals faster and more convenient considering the country's dramatic improvement in domestic air routes and the province's influx of tourists with flights to Siquijor.
It is a vital component for comprehensive upliftment of both the economy and the livelihood of the island, he finally said. (Rizalie A. Calibo/Inacher A. Abatayo)