Cebu Pacific Launches Flights Between Manila and Guam
The Philippines' budget carrier, Cebu Pacific launched four times weekly flights between Manila and Guam, its first US destination, today.
CEB is the only low-cost carrier flying directly between the Philippines and Guam. Lowest year-round fares between Manila and Guam start at PHP 7,203 (all-in), which is approximately 40% lower compared to other airlines.
"We are proud to operate our first route in the US today, which coincides with the month of our 20th anniversary. We share this excitement with Filipinos in Guam, who may now come home to their families more often, and with travelers from the Philippines, who aim to cross another destination off their bucket list," says Alex Reyes, CEB General Manager for Long Haul Division.
"We hope to strengthen trade and tourism between the Philippines and Guam, through faster, more affordable, and more accessible flights for everyJuan," added Reyes.
CEB's Guam route operates every Tuesday, Thursday, Saturday, and Sunday, utilizing the airline's brand-new Airbus A320 fleet.
The non-stop service departs Manila at 3:45AM, arriving in Guam at 10:15AM. The return flight departs Guam at 12:30PM, arriving in Manila at 2:55PM.
Nathan Denight, Guam Visitors Bureau General Manager, remarked on the occasion, saying: "Cebu Pacific's entry into Guam creates an opportunity to further connect our island and the Philippines.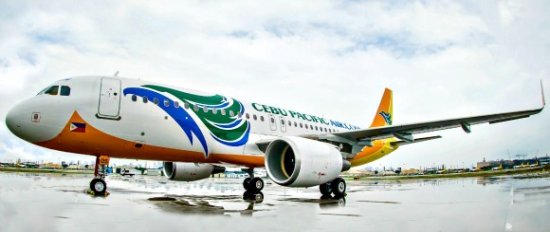 It also creates new and exciting ways to travel whether it's for business or pleasure. Guam is the closest US destination from Asia, and serves as the gateway to Micronesia and other regions of the world. We look forward to partnering with Cebu Pacific in promoting tourism and our island paradise."
The Manila-Guam service leads CEB on another expansion path across the Pacific, further boosting a network that now spans over 90 routes on 64 destinations. Aside from Guam, CEB also operates flights to Sydney, Japan, Korea, Dubai, and Doha, among others.
For bookings and inquiries, guests can visit www.cebupacificair.com or call (+632)7020-888 or (+6332)230-8888. The latest seat sales can be found on CEB's official Facebook and Twitter pages. Guests may also download the Cebu Pacific official mobile app on the App Store and Google Play.
Cebu Pacific's 57-strong fleet is comprised of 8 Airbus A319, 35 Airbus A320, 6 Airbus A330, and 8 ATR 72-500 aircraft. It is one of the most modern aircraft fleets in the world. Between 2016 and 2021, CEB expects delivery of three more brand-new Airbus A320, 30 Airbus A321neo, and 16 ATR 72-600 aircraft. ________________________________________________________________________________
Cebu Air Inc. (PSE: CEB)
Cebu Air Inc. is the largest carrier in the Philippine air transportation industry, offering its low-cost services to more destinations and routes with higher flight frequency within the Philippines than any other airline.