Farming and Farm Tourism Uplifts Leyte Village
Life is way better now for farmers of upland Villa Conzoilo village, a site for compact farming of the Leyte provincial government.
The organic farm site is located about seven kilometers from the town center, near the famous Alto Peak or Mt. Amandiwing, the highest peak in Eastern Visayas.
The place is about 800 meters above sea level. Temperatures normally drop to 18 degrees celsius at night, according to village chief Alex Aborita.
Aborita is also the president of Villa Conzoilo Farmers Association. He was awarded in 2014 as Outstanding Young Farmer during an annual event of Junior Chamber International (JCI) Philippines.
As president of their organization, Aborita was able to travel abroad to Japan, South Korea, China, Taiwan, Indonesia, Malaysia and other Asian countries to study different farming techniques.
From Php 1,000 capital in 2010, the farmers group managed to grow their assets to nearly Php 23 million with almost Php 4 million cash in bank.
He noted that the status now of their village is a big leap from their previous condition.
"It uplifts our living conditions and changes the situation of our village. We can now send our children to school which will ensure a better future of Villa Conzoilo," Aborito said.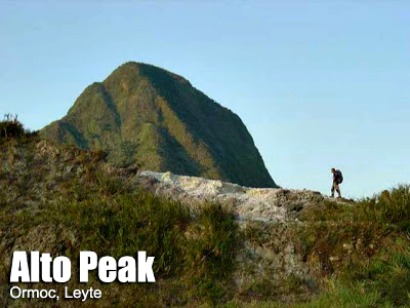 via pinoymountaineer.com
From their income, the group was able to purchase 24 hectares of land for the cultivation of different kinds of high value crops, raising livestock, and tilapia production.
The village is producing salad types of vegetables that they supply to market in their town and nearby Carigara, Alang-alang and Palo town and big establishments in Tacloban, like Robinsons Mall, Save More, Gaisano, and Max's Restaurant.
These vegetables are lettuce, cabbage, radish, eggplants, tomatoes, carrots, Baguio beans, Chinese pechay and pechay, bell pepper, broccoli and cauliflower.
The farmers have also started cultivating grapes, asparagus, strawberry and onions, the first in Eastern Visayas.
"This is first time in Eastern Visayas. If we will succeed, we can now have our own supply of asparagus, strawberry and onions that we usually import from other provinces," Aborita said.
The cold temperature at night is comparable to Baguio City, making the place favorable to high-value crops cultivation.
Aborita is optimistic about strawberry planting in the bid to attract more people to visit their village as they prepare their area for farm tourism.
As part of their preparation, local farmers have undergone training on how to deal with tourists through the assistance of the Department of Tourism.
As part of their farm tour package, they bring their visitors to nearby Silawat Falls for Php 100 fee. Since its opening in May this year, the village has already earned more than Php 26,000 monthly.
Lucky tourist may have chance to see endangered animals like Philippine Eagle, Philippine lemur, tarsiers and Philippine deer living in the dense Leyte forest, according to Aborito.
The provincial government has also funded the construction of a two-storey building that will be used as a dormitory and training area for farmers, students and potential farmers who wanted to learn the technology and way of farming. (PNA) RMA/SQM/Roel T. Amazona/egr