Fairways and Bluewater Newcoast Redefines the Boracay Experience
Boracay Island, voted World's Best beach in 2012, continues to redefine lifestyle with the allure of Fairways and Bluewater Newcoast, the largest eco-friendly resort destination in the world-renowned paradise island.
Spanning over 150 hectares, the property is a picturesque product of Global Estates Resorts Inc., the Philippines' leading developer of tourism resort estates.
Fairways and Bluewater's grand new lobby is a masterpiece of international interior designer Budji Layug + Royal Pineda. The lobby complements over 300 well-appointed rooms spread around the property in various buildings, ensuring guests' privacy.
You can explore the resort's landscape on horseback or Segway rides. An additional treat are the cable car and the Zipline.
Fairways and Bluewater takes pride in redefining lifestyle by providing exclusive attractions in Boracay Island.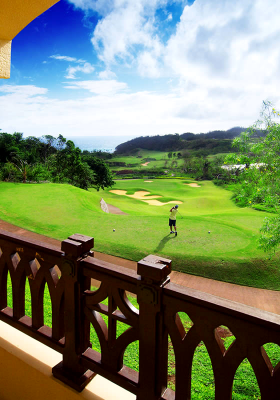 First, you can find the only golf course in the island at the resort. Designed by Australia's leading professional golfer, Graham Marsh, the 18-hole par-72 course has been the venue of international golf tournaments.
The following conveniences can be enjoyed when you get to the golf course: pro shop and reservations, locker room facilities, club rentals, tee houses and beverage cart.
Golfers can also improve their game through the assistance of Fairways and Bluewater's well-experienced caddies and golf professionals.
Facing the majestic Sibuyan Sea, another unique feature of the property are its exclusive white sand beaches that provide guests serenity sans the crowd.
Fairways and Bluewater Newcoast shows that by being environmentally conscious in its design to the placement of environment-friendly conveniences such as the electric jeepneys, eco-friendly golf carts, and the zero waste management sewage system, it ensures that man and nature's interests are both addressed.
A paradise replete with modern amenities – this is the vision of Fairways and Bluewater for Boracay Island.
Thus it places equal importance to providing modern amenities to cater to today's discriminating tourists while maintaining a pristine, well-preserved environment – one that the future generations of travellers can enjoy and marvel at.
Fairways & Bluewater Newcoast, Boracay
Lorelei Acosta
+639088849334
Contact
fairwaysandbluewater.com.ph