Experience "Santorini of Asia" in PHL

Most tourists visit the northern part of the Philippines to experience the cold temperature in Baguio, mountains of Cordillera, or the geographic landscapes of Ilocos, but this part of the country also offers a Mediterranean experience as it hosts the "Santorini of Asia".
See Santorini without crossing the Mediterranean Sea at the Thunderbird Resort and Casino in San Fernando, La Union
Thunderbird Resort and Casino, located in a 65-hectare property within the Poro Point Freeport Zone, is the country's largest integrated resort and casino.
Thunderbird Resorts has been operating in Poro Point for 10 years, but the company aims to boost its business by launching a casino and new villa-type and Santorini-inspired accommodation facilities.
On Saturday, Thunderbird Resort had the grand opening of Fiesta Casino, operating 304 slot machines, 25 electronic table games, 28 table games, and a 239-square meter VIP gaming room.
It also opened 47 units of villa-type accommodation, a spacious lodging perfect for families.
Its Maia two-bedroom villa has floor area of 173 square meters, with living and dining area.
Thunderbird Poro Point's villa accommodation rates are at Php 20,000 per night for two-bedroom villa and at Php 30,000 per night for three-bedroom villa, which can host four to six persons, respectively.
Its hotel room rates ranges from Php 9,000 to Php 16,000.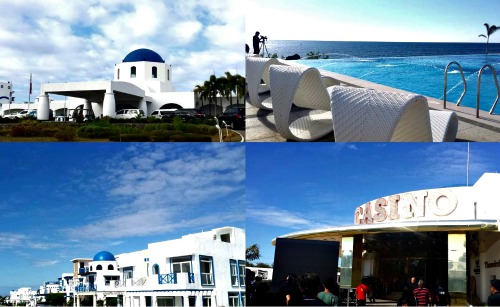 Thunderbird Resort and Casino, San Fernando, La Union
The hotel resort now has 62 villas and 63 hotel rooms.
It has an ongoing project of building 14 units of presidential suites facing the beach.
Apart from casino and villas, it boasts its Ibiza-inspired Fira Beach Club, with an infinity pool facing the West Philippine Sea -- a perfect spot to witness the picturesque sunset.
Indulge in Mediterranean cuisine at Olive Restaurant with authentic Mediterranean choices, or enjoy coffee and pastries at Pianosa Deli Shop, or grab some snacks and treats at Patio Santorini, or have a drink or two at the poolside Helios Pool Bar or at Fira Beach Club.
Thunderbird Resorts and Casinos in the Freeport also houses the largest event center in Northern Luzon, the 1,440-sqm Agora event center, which can accommodate up to 1,200 persons.
The Santorini of Asia has nine-hole golf course, a 1,000-sqm swimming pool, spa, club house, and offers recreational activities.
Thunderbird Resorts and Casinos chief operating officer Angel Sueiro said the company spent nearly a billion pesos for the expansion project.
Sueiro added that the Thunderbird Poro Point was also planning to add more machines and tables at the Fiesta Casino, more villa-type accommodation, and open a three-hectare driving range facility -- The Cliffs Golf Academy.
New projects of Thunderbird Poro Point are under AV Seneca Construction Corp., the official contractor of 2016 and 2017 projects of the company.
Thunderbird Poro Point is also the first five-star luxury resort hotel in Northern Luzon. (PNA)RMA/Kris M. Crismundo