Green Warrior in the Battle of Environmental Conservancy
She may have created so many critics in the name of environmental conservancy yet she flawlessly earned the unconditional respect of those rallying behind it. Her warning: cooperate or perish.
For Perla Visorro, a character all her own, the struggle against abusers of the environment have reached a feverish pitch as early as when she was a speech and drama professor in Baguio City.
Then, she has been exposed to alarming environmental issues and damages in the vast natural resources of the country as well as those of Northern Luzon. That would include Cagayan Valley.
A self-proclaimed protector of the environment and a woman who thinks, plans, speaks and acts as if God-given resources are second skin, this Cebuana has created quite an image of herself in nearly all the areas she was assigned to.
In fact, her name alone signifies one of the sea's most valuable treasures, the pearl. Like her namesake, she can be a gem to an area she vowed to protect.
Pushed by her innate and unquestionable commitment to protect mother earth, Visorro uses her communication expertise to the hilt to effect social change among all sectors.
She's virtually everywhere, thus earning for her name respect and admiration not only in the region but outside of it.
Looking back at her career, backed by an impressive academic credentials, this woman from Dumaguete could have been the Chancellor of the University of the Philippines in Baguio if only she chased further a promising and challenging career as Professor of Speech Communication and Theatre Arts- undoubtedly her first love.
Back then, her love for theatre arts is undisputed and definite where she developed hundreds if not thousands of stage actors to refine their unique acting-niche.
But wait, she didn't only train students to reach their performance level in theater productions. She molded them to use the medium and become instrument of social change.
Yes, she is a perfectionist when it comes to encouraging students to pursue their desires, to fight what is right, and to speak out so to be heard. Admittedly, she wanted her students to be molded as critically radical on social issues.
In the mid 1980's, UP students were captured in the old Baguio dailies staging protests through drama during those hot summer days in Session Road streets. Clenched fists were up against environmental malpractices in the Cordilleras. They were her students, earlier on coached in the ABCs of theater arts as a protest medium.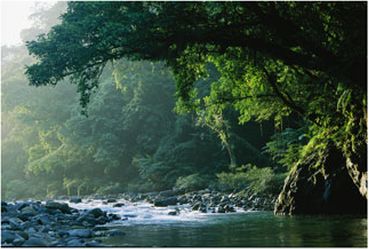 Sierra Madre Natural Park, Cagayan, Philippines
But she did not stop there; she did not want to confine herself and spoil her talents in the four corners of the academe; there's more to be done.
Finally, at the height of her teaching career, she closed her books and neatly folded her costumes in theater, a decision she never regretted since then.
She switched careers in her mid 40's to finally devote her whole life to her true calling---working with non-government organizations, giving less to herself while sharing more with others who are in need.
At the height of the EDSA fever in 1986, she began her journey to a land she would later call home, the bountiful Cagayan Valley.
She first found her niche at the Plan International where she undertook child welfare and rural development projects in the provinces of Cagayan, Isabela, Quirino and Nueva Vizcaya from 1986 to 1996. With her 10 years as program manager, she had known the very ills of society, be it social, political, economic and more so on the environmental front.
Her experienced with Plan International pushed her further to establish her own non-government organization without thinking how much it could financially cost her to hire additional personnel and rent an office.
Yet, she did. After taking a few steps back and evaluate so far what she has done in the past and where it is all headed, she successfully founded the Cagayan Valley Partners in People Development (CAVAPPED) engaged in rural development work; that is social development and environmental protection and biodiversity conservation in region 02.
As President/Chief Executive Officer, she slowly created a network of her own.
With combined communication expertise and a solid NGO work experiences, her own NGO now serves as the lead NGO in Cagayan Valley which facilitates the conduct of various National Integrated Protected Areas System (NIPAS) processes for the proclamation of Northeastern Cagayan as protected landscape and seascape.
"Your own awareness on the issues is the best tool to win the support of the community in your cause," she said, saying social consciousness is necessary to trigger a sense of outrage among the affected communities to make an action in protecting the environment.
These days, her CAVAPPED is recognized as one of the most credible and transparent established NGOs in the country. Undeniably, she is one of the aces of environment advocates particularly the conservation of the Northern Sierra Madre Nature Park landscape and seascape.
With her energy and proficiency in writing and researching that seemed unlimited, she had done various papers on environment management and protection and even on assessment of the disaster preparedness of high-risk barangays in region 2 which captured the fancy of local policy-makers.
"The only way we can win more support is to educate, inform and inspire more people so that together we can influence key actors to support us," she added, not minding the threats or dangers she may encounter.
Her writings indeed put pressure on the politicians, academe, corporations, church, youth and all sectors of society to do their bit and start taking their responsibilities seriously.
Winning the votes of the members of the Regional Development Council, she now chairs the Regional Multi-Sectoral Forest Protection Committee, a committee rarely headed by a woman.
Aside from her other commitments in other sectors, she leads the protection of the physical resources within the untenured and tenured forestlands from any form of forest destructions, including the effective enforcement of other forest laws and regulations.
It is worthy to note that under her leadership, the committee was able to conduct successful anti-illegal logging operations based on information/tips from unidentified informants.
Despite her frame, she still joins her committee to trek suspected denuded forest covers and even takes part on the operations in monitoring the entry and exit points of forest products in the region.
Yet, for her, her legacy does not end here because her life up to the end has been devoted and committed for a cause, empowering the vulnerable effects of social change no matter what.
"If you truly believe in a cause you are doing, you are but a sound fury signifying nothing," she emphasized.
Indeed, just like her name formed in the depths of the sea, Perla's environment causes is timeless, classic and treasured across all sectors of Northern Luzon society. (Angely L. Mercado/BSY/PIA-2)