The Eco-Trails of Adams, Ilocos Norte
Waking up to a foggy cold morning in Adams, Ilocos Norte and sipping on a perfect blend of aromatic Arabica coffee, locally grown in this mountainous town of the province makes it a beautiful morning for nature lovers and adventurers.
Amidst being isolated during heavy rains and strong typhoons due to landslides and swelling of the Bolo river, residents here composed of five diverse Indigenous Peoples take pride of promoting this one-barangay town composed of at least 269 households as a unique travel destination for nature, culture and adventure rolled into one.
As part of attracting more tourists to visit this magnificent eco-cultural and adventure tourism destination located in the northeastern portion of Ilocos Norte, the Adams municipal government in cooperation with the Department of Tourism and other stakeholders continue to promote its "hidden treasures" to the world with its eco-trails and natural landscapes unique to this town.
On September 30, trained eco-guides of Adams led nature lovers and adventurers from various parts of Ilocos Norte and nearby provinces of Ilocos Sur and Cagayan to a 4.5 leisure hike to the Kabulon trail, one of Adams' exciting eco-trail, traversing five tributaries while passing through old and secondary growth forests.
"We are exhausted but all worth it. At the end of the trail, we were treated to eat all you can rambutan picking. Glad we made it!" said one of the visitors from Candon City, Ilocos Sur.
ll the way from San Fernando, La Union, Regional Director Martin Valera of the Department of Tourism and some of his staff also joined the whole-day activity as visitors were also treated to a boodle fight promoting Adams exotic food products and a cultural presentation in the afternoon.
"The DOT is very proud of what Adams has become after years of promoting its eco-tourism potential. As you see, Adams is a very viable tourism destination. Just the trekking and you haven't gone to the river, to the mountains and to the forests yet for bird watching and so much more," Valera said in an interview.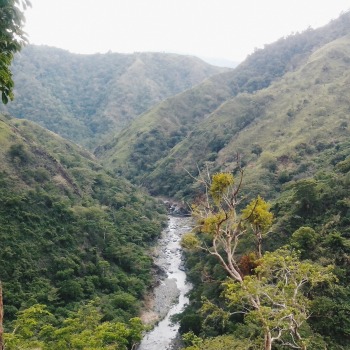 Ilocos Norte
By 2016, Valera said the DOT and the Department of Public Works and Highways has already approved a budget to continue its tourism access road development leading to Adams town proper.
Once completed, Valera said more and more tourists will be coming here which is expected to generate more livelihood and jobs for the local community.
Following a framework of Community-Based Sustainable Tourism, warm and hospital residents here look forward to welcoming more tourists in the area and show to the world what makes Adams distinct to other places.
For his part, Adams mayor Eric Bawingan expressed gratitude to all participants who made it to the even though it has been postponed due to bad weather.
Now on its second year, the Intado Ka Ginginubat (Promoting Adams through a leisure hike to the forest) was set on August 28 but it was postponed due to typhoon Ineng that hardly-hit this town recently.
"We are glad our roads are now passable and we have volunteers from Viking Construction who helped us clear our roads every time a landslide occurs.
Nestled at the highest peak of Ilocos Norte or about 13.5 kilometers from the national highway of Pancian, Pagudpud, Ilocos Norte, going to Adams now is now made more accessible with the concreting of a 4.8-kilometer road leading to the town proper.
With a land area of 15,931 hectares or having a population density of one person per 10 hectares, Adams, located about 105 kilometers from Laoag City is known as a melting pot of the Indigenous Peoples composed of Iyapayao, Isneg (Ilod), Kankanaey, Bago and Ilocanos.
For those who are interested to visit Adams, you may contact the local government unit of Adams through its Municipal Tourism Office with the following contact numbers: 09175400706/ 09088608010/ 09255388303 or email adams.ilocosnorte@yahoo.com or visit www.adamsilocosnorte.net.(PNA) CTB/Leilanie G. Adriano