Du30 Tour Remains Popular Among Davao Visitors

The simple house of President Rodrigo Duterte in Dona Luisa Village here still tops the list of destination sites under the DU30 tour package for the city's visitors.
In fact, participants of upcoming conventions have been requesting for the Du30 tour in the city next year.
This was revealed by MICE-Davao (Meetings, Incentives, Conventions and Exhibit) chair Ken Kapulong, who is also the manager of Seda Abreeza Hotel–Davao.
Kapulong disclosed that the members of the Knights of Rizal whose members are mostly Filipinos from the United States of America (USA) only wanted to experience the Du30 tour when they come here for their convention with 400 delegates from February 22-23, 2017.
As MICE beneficiary, these visitors are entitled to special rates on other services like spa, food, and tour just to name a few but these visitors only wanted the Du30 tour.
The DU30 tour package includes a photo opportunity at the President's residence, the Davao Museum where some of Duterte's memorabilia are on display and the visit to the Public Safety Command Center where the base of the 911 is located.
"The interest is there and more visitors are showing the same interest that is why our tour operators are conceptualizing more details of the tour like his (President) favorite carenderia, etc.," he said.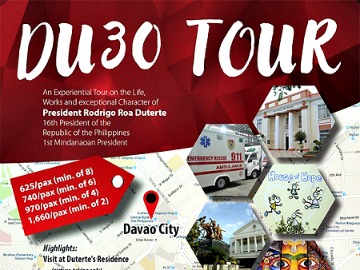 Kapulong said as MICE assisted convention, it gets basic incentives to include the use of the Department of Tourism Information Counter at the Francisco Bangoy International Airport; airport reception with welcome dancers and welcome tarpaulin on the arrival date of delegates in bulk welcome kits and lies; assistance by Davao City Tourism Office for the issuance of permits for welcome banners/streamers; special MICE accommodation rates for DOT accredited hotels and restaurants.
There is also a special MICE airline group rates from Air Asia and Cebu Pacific; incentive discounts per transportation booking with Mabuhay Car Rentals; incentive discounts from Abreeza Ayala Mall and SM Lanang Premier participating outlets; incentive discounts from participating wellness and spa centers of Davao Wellness Association (DavWell); discount from participating stores at Pasalubong Center.
Kapulong said conventions with 2000 and more participants get the basic incentives plus additional complimentary meeting room at SMX convention center; discount on rental fee of the function room in SMX convention center; and hosted familiarization tour for the inspection team for 3 days and 2 nights.
According to Kapulong, there are events lined up this fourth quarter as MICE recipients, among them the Mother Butler Convention on October 22 to 23 with 1,700 delegates; Philippine Institute of Civil Engineers, November 17-19 with 3,500 delegates; Servant Communities National Conference, November 18-20 with 500 delegates; Philippine Librarian Association Conference, November 22-25 with 600 delegates; and Philippine Institute of Certified Public Accountants, November 24-26 with 5,000 delegates.
He said the city is currently hosting at least two conventions per month.
"This is good for our economy where our estimate on the average spending per participant is at P5,000 per day inclusive of food and accommodation plus transportation," he added. (PNA)LAP/LCM/Digna D. Banzon/LDP