Drinking Coffee may be Healthier Than you Think!

According to American scientists, coffee probably contributes more healthy antioxidants to your diet than fruit and vegetables.
Scientists measured the antioxidant content of more than 100 different foods including vegetables, fruits, nuts, spices, oils and beverages. Based on the findings and from the data of the US Department of Agriculture, coffee was the biggest source of antioxidants per serving and level of consumption. It was followed by black tea, banana, dry beans and corn.
According to Professor Joe Vinson, head researcher from Scranton University in Pennsylvania, Americans get more of their antioxidants from coffee than any other dietary source. Both caffeinated and decaffeinated coffee appeared to provide similar antioxidant levels.
Antioxidants help rid the body of harmful free radicals, destructive molecules that damage cells and deoxyribonucleic acid (DNA). They are linked to a number of health benefits, including protection against heart diseases and cancer. Studies have associated coffee drinking with a reduced risk of liver and colon cancer, type 2 diabetes and Parkinson's disease.
But watch out for coffee's hidden calories. You might be getting a mug full of calories, sugar and fat, depending on the kind of milk and other ingredients used. For example, a large latte' may be loaded with 250 to 570 calories, says a recent issue of the Mayo Clinic Women's Health Source. But there's no need to get frothy over this information, you can still enjoy your coffee as long as you follow these healthy tips: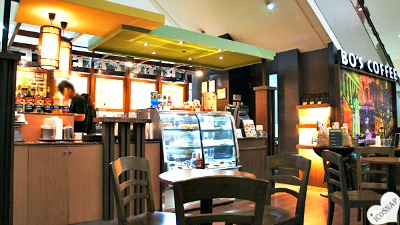 Drinking Coffee - Bo's Coffee Shop in the Philippines
Choose the smallest cup - either 8 ounces or 12 ounces that can save you 110 calories
Get your coffee drink with fat free milk instead of whole milk that can save you about 8 calories and 8 grams of fat. Lessen your sugar
One cup of coffee with 2 teaspoon of sugar has 30 calories;
Do without the whipped cream, flavored syrup or chocolates, they are loaded with calories.
Prof. Vinson urged moderation and advised people to drink only one or two cups of coffee per day. The British Coffee Association says that moderate coffee consumption of four to five cups a day is not only perfectly safe but may confer health benefits.
Prof. Vinson says that it is also important not to ignore the health benefits of fresh fruits and vegetables which contain higher amount of vitamins, minerals and fiber.
For a healthy lifestyle and enjoyable long life, follow the Nutritional Guidelines for Filipinos developed by FNRI-DOST and a team of medical, health and nutrition organizations. NGF message no.1 says Eat a variety of foods everyday! While NGF message no. 2 advocates exercise regularly, avoid smoking and drink alcoholic beverages in moderation.
For more information on food and nutrition, contact: Dr. Mario V. Capanzana, Director, Food and Nutrition Research institute, Department of Science and Technology, Gen. Santos Avenue, Bicutan, Taguig City, Philippines, Telephone/Fax No. 837-2934, 837-317, 837-20-71 loc. 2287 e-mail: mar_v_c@yahoo.com; FNRI-DOST website:http//www.fnri.dost.gov.ph. (Josefina T. Gonzales, FNRI-DOST S&T Media Service/PIA-Caraga)