DOT Counts on Local Governments to Attain Regional Tourism Growth
The Department of Tourism (DOT) lauded some local government units in Eastern Visayas for incorporating tourism programs in their local development plans.
DOT Eastern Visayas Regional Director Karina Rosa Tiopes was pleased that some local government units in the region had realized the contribution of tourism to economic development.
But focusing on tourism is not an easy task as it requires proper planning to ensure that it will align to the overall objective of local governments.
Last year, the tourism department assisted local government units in crafting their tourism master plan for 2017, incorporating their inputs in the regional tourism master plan.
"We asked them if what their priorities are, how can we and the stakeholders helped them and what are the help that they need from the DOT," said Tiopes.
But for local tourism program to become successful, the region should be promoted as a whole and not just by province, according to the official.
Each of the six provinces in the region has unique destinations to offer – Biri Rock Formations in Northern Samar, Calicoan Island in Eastern Samar, Sohoton Cave in Samar, Sambawan Island in Biliran, diving sites in Southern Leyte, and Kalanggaman Island in Leyte province.
Promoting the region's tourism potential as a whole is one of the programs that Leyte Governor Leopoldo Dominico Petilla wants to push through this year.
Petilla said that to promote the region in unison, the provincial government will construct a hub at the Government Center in Palo town for intensive promotion of all tourist destinations in the region.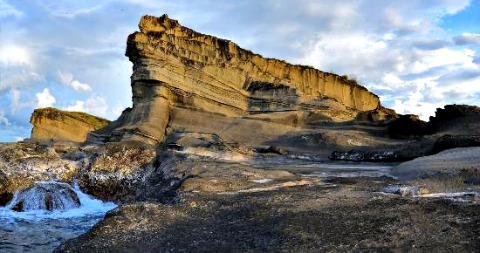 Biri Rock Formation in Northern Samar
"Tourists will just check the place where they can go in the region and avail of the packages offered," Petilla said.
The readiness of the community in tourism and to accept development is also a major factor in tourism development, according to the governor.
"We may not be as popular like other places in the Philippines, but we wanted to make a statement that our services here are comparable to what they offer."
Samar Governor Sharee Ann Tan, on her part, is glad that local officials in their province now realize the tourism potential of their respective locality.
But the aggressiveness of the local government to promote their areas for tourism must be carefully planned to ensure sustainable tourism, she added.
The governor acknowledges the problem on accessibility and security as some of the factors that might affect the full blast promotion of Samar province in tourism.
"We need to address this problem including other needs of our tourist like on food supply and souvenir items," Tan told PNA.
Tan added that this year, the provincial government is preparing additional areas in the province to be included in the Samar tourism campaign launched in 2015.
For this year, the provincial government has listed the towns of Calbiga, Jiabong, San Jorge and Calbayog City as part of the Spark Samar campaign. This is on top of priority towns identified earlier - Basey, Marabut, Sta Rita, Pinabacdao and Paranas.
But some of these places are not tourist-ready like San Jorge due to setback in accessibility and security.
"We cannot just go for marketing if the place is not yet ready. Once we fail, our efforts will be gone forever," she said.
Due to upgrading of local tourism-related facilities in 2016, the DOT and stakeholders had raised the seven percent annual growth target in previous years to 15 to 20 percent in 2017. (PNA)LAP/SQM/ROEL T. AMAZONA/EGR