Dohera Hotel in Cebu, Philippines Presents Latest Promo for Group Stays

The deal, called "G2EAT T2EATS", presents a more budget-friendly vacation for those who book rooms at this hotel via its website.
Dohera Hotel launches a new promo that will surely entice those traveling in groups to schedule a stay in the Visayan province of Cebu in the Philippines. The deal, called "G2EAT T2EATS", presents a more budget-friendly vacation for those who book rooms at this hotel via its website.
Following are the details of the promo:
G2EAT T2EATS
- Groups of up to 4 persons can stay at the Superior Regal room of this hotel in Mandaue City, Cebu at discounted rates - Valid for stays until December 31, 2014 - Inclusions: buffet breakfast, Wi-Fi Internet access, use of swimming pool and gym, free parking, complimentary bottled water
Guests who book this promo get to be billeted at Dohera Hotel's Superior Regal room. This accommodation type features 2 memory queen beds, 26-inch LCD TV, and a private bath with hot and cold shower.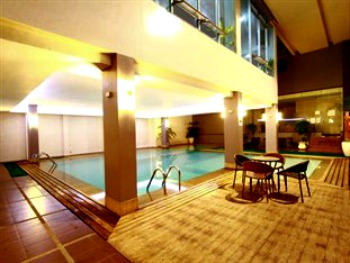 Dohera Hotel, Cebu
It is also furnished with air-conditioning, mini-refrigerator, coffee and tea facilities, and personal safety box. With a floor area of 28.75 sqm, the Superior Regal room comfortably caters to a maximum of 4 adults and 2 children.
The G2EAT T2EATS promo requires no prepayment to reserve; payment will be settled at the hotel upon arrival. Interested parties, however, must secure rooms by booking direct at the hotel's website at http://www.doherahotel.com.
All that's needed to be done is to click "Check availability and prices" to launch the online booking engine powered by DirectWithHotels. Here, they can choose their stay dates on the virtual calendar and follow the simple steps to take advantage of the promo. Terms and conditions apply. Promo details may change without prior notice, but reservations made before such modifications will still be honored.
Dohera Hotel in Cebu boasts a 3-star contemporary lodging option for business and leisure travelers while in the center of Mandaue City, one of the highly urbanized metropolises of this province in the Visayas Region. Guests can revel in its 100 rooms that have a clean, simple design yet furnished with all the conveniences a visiting businessman or holidaymaker may need.
This Cebu hotel also has practical facilities like a boardroom, function rooms, and a ballroom that can accommodate up to 150 guests. The on-site TOQUE Restaurant satiates one's appetite any time of the day with its offerings of Filipino and international dishes. And with other hotel features like a bar, swimming pool, gym, business center, massage service, and 24-hour transportation service, Dohera Hotel makes for the ideal accommodation in Mandaue City, Cebu, Philippines.
Dohera Hotel
A.C. Cortes Avenue
Mandaue City, Cebu
Philippines
Phone Number: +63 32 420-6176 / 520-9380 to 83
Website: http://www.doherahotel.com