Dive Shops in Negros Oriental Seek Clarification on Diving Fees in Protected Areas

​Dive shop owners and dive tour operators in Negros Oriental are asking the Department of Environment and Natural Resources (DENR) for clarification on the new and increased diving rates for foreigners in protected areas covered by the National Integrated Protected Areas System (NIPAS) Act.
They are referring to DENR Administrative Order (DAO) No. 2016-24, dated Sept. 16, 2016, and signed by Environment Sec. Regina Lopez on the "Revised Rates of Fees for Entrance and Use of Facilities and Resources in Protected Areas Amending DAO 1993-47."
Harold Biglete, owner and operator of Harold's Dive Center in Dumaguete City, Negros Oriental, on Friday said the order has caught them by surprise as they were not informed about it and they only learned of it recently.
Biglete said they are worried of the possible effects of the administrative order especially as it covers Apo Island in Dauin, Negros Oriental, which is a renowned world dive destination and is a protected landscape and seascape.
"It's going to kill the industry, and many others will also be affected by this as a direct or indirect consequence," Biglete said, referring to boat operators, resorts, the transport sector and the like.
The current diving rate at Apo Island is at PHP300 per person per dive for both Filipinos and foreigners, Biglete said.
The new rates in the DENR's Administrative Order No. 2016-24 pegs the diving fees at PHP800 each for Filipinos and PHP1,800 each for foreigners "per visit."
Biglete said "per visit" has various interpretations, as some believe that "per visit" would mean "per dive," which would be quite high in comparison to fees collected in other dive sites in Siquijor, Bohol and Moalboal in Cebu that are non-NIPAS areas.
The Negros Divers' Association, headed by Glen Carballo, met to discuss the DENR order, after learning that it would be implemented in Apo Island by February 1.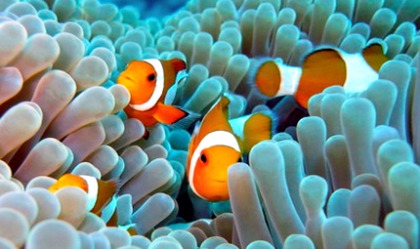 Apo Island in Dauin, Negros Oriental
Owners of resorts and dive shops are agreeable to an increase in dive fees but not as high as PHP1,800 as stipulated in the administrative order, Biglete said.
They are hoping to talk to the DENR to be enlightened on the administrative order before its implementation in Apo Island, Biglete said.
Danny Ocampo, a diver who works for a group advocating for the protection of the environment, and who frequents Apo Island, said he is "okay with the good intentions of sustainable financing mechanisms for protected areas but there should be some conditions to make sure the money goes where it should."
"The private sector should also support sharing their profits to support the protected areas they earn from," Ocampo said.
DENR-Negros Island Region (NIR) director Al Orolfo said in a telephone interview Friday that he is going around the island to talk to the different stakeholders of NIPAS areas to know their sentiments and concerns on the administrative order.
DAO No. 2016-24 covers not only Apo Island but all the NIPAS areas in the country, Orolfo said.
He said he was also surprised as to the uniformity of the fees in the order when each protected area has its own individual and unique characteristics.
Orolfo said his office has received inquiries and feedback that some conditions set in the administrative order are "unclear."
For instance, "per visit" is not specific on whether it would refer to per dive or the entire duration of the stay of a person in Apo Island.
The latter would mean that Apo Island would be short-changed in its income if a diver gets to pay only a one-time fee of PHP1,800 even if he stayed for a number of days there.
Orolfo said he will be holding a series of consultative meetings in the Negros Island Region's NIPAS areas on the DAO No. 2016-24, starting out with the Negros Natural Park on January 11.
The same consultation with stakeholders is scheduled on January 16 for Apo Island, the Twin Lakes in Balinsasayao, Sibulan, Negros Oriental by the end of this month, and the Mt. Kanlaon Natural Park in early February.
Orolfo also said he will be meeting with stakeholders of the Tañon Strait Protected Seascape, the largest marine protected area in the Philippines, at a still undetermined date for the same consultations.
Orolfo said the different Protected Area Management Boards in these NIPAS areas are expected to come up with resolutions regarding concerns related to the administrative order.
While the administrative order was to take effect immediately 15 days after its publication in a national daily, Orolfo said it is a "status quo" for NIR at the moment.
But he said he hopes to be able to implement it within the first quarter of this year once he has submitted the concerns and other clarifications to the DENR Central Office for proper guidance. (PNA)EB/JFP/RSM