Dive Tourism Creates Jobs in Negros Oriental  
The rich marine life of Negros Oriental was the key that opened doors to several jobs in the tourism industry. Among these, were underwater guides and emergency responders.
Just recently, 12 boys and four girls completed courses for dive master (DM), advanced open water (OPW) and emergency first response (EFR), which brought them a step closer to becoming professionally trained divers, the Department of Tourism (DOT) said.
Upon securing their certification from the Professional Association of Diving Instructors (PADI), the young divers can start catering to foreign and Filipino underwater enthusiasts hopping to Apo Island from other dive sites in Siquijor Island, Oslob, Cebu and Panglao, Bohol.
Among the young divers was 20-year-old Mark Cyrel Mendez who signed up for scuba diving training offered by a volunteer group of French divers, Plongeurs de Monde, when he was only 13. The French diver group visited his native Apo Island in Negros Oriental back in 2011.
Before he signed up, Mendez could only dream of getting through high school. Now, Mendez has graduated to professional scuba diving after seven years of training.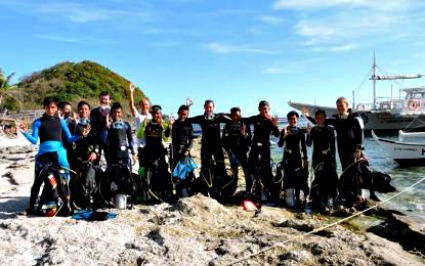 He said that he would continue professional scuba diving while pursuing his civil engineering course at a Dumaguete City college.
"Our country and our seas are so rich. There is no reason for Filipinos to stay poor," Mendez said.
Plongeurs Philippines head Laurent Martin welcomed this development, noting that there was still hope" for promising deep-sea divers like Mendez.
"Hope floats for these promising young deep-sea divers who honed not only the nitty-gritty of scuba diving but also deepened their appreciation of marine life," Martin said.
Plongeurs founding member, Roger Gugliemi said that the program is also meant to raise the young divers' awareness for the protection of the environment and attain economic freedom by gaining a professional skill in diving.
The 16 Apo kids join some 300 young "ploogners" certified master divers in countries such as Sri Lanka, Vietnam, Morocco, Oman, and Tanzania, Dominica.
Tourism Undersecretary and Philippine Commission on Sport Scuba Diving (PCSSD) chair Kat de Castro welcomed the efforts of the French diver group noting that they have helped contribute to a meaningful inclusive tourism program.
The Plongeurs program, De Castro said, was set to train more young divers in Southern Leyte and Siargao, Surigao del Norte.
Meanwhile, local marine advocate, diving instructor and former barangay captain Mario Pascobello, who hosted the Plongeurs de Monde during the summer training over seven years, said that the program also helped keep the youth from illegal drugs by providing them with opportunities for career advancement.
Plongeurs de Monde (Divers of the World) began when divers from France, Switzerland and Belgium got together to train poor kids from families devastated by the tsunami in Sri Lanka in 2005. (PNA)Azer N. Parrocha