Discovery Hotel Group's 15th Anniversary Offers in Travel Tour Expo 2015

Save up to 60% on your next vacation with the Discovery XV anniversary offers at the 22nd PTAA Travel Tour Expo at the SMX Convention Center on 13 to 15 February 2015!
2015 rings in a dazzling milestone for the Discovery Leisure Company as it celebrates its 15th crystal anniversary with "Discovery XV", to be launched in the Philippine Travel Agencies Association's 22nd Travel Tour Expo from 13 to 15 February at the SMX Convention Center.
The hotels and resorts Group is delighted to once again be part of the highly-anticipated annual event that draws thousands of travel enthusiasts who are looking for the best deals in accommodations.
"Discovery XV" derives inspiration from crystal, which symbolically represents 15 years – an apt representation of the bright and stunning years that shaped the vibrant leisure company today.
To fete the years gone by and the years to come, attendees of the Travel Tour Expo can expect no less than stellar "Suite Deal" room packages from Discovery Suites in Ortigas, the Group's founding property, Discovery Country Suites Tagaytay, Discovery Shores Boracay, Club Paradise Palawan and the soon-to-open Discovery Primea Makati.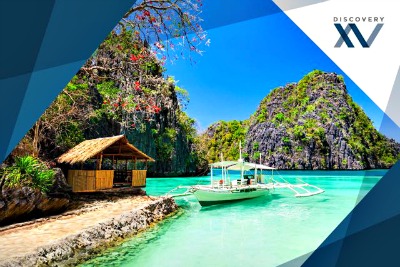 Discovery Hotels and resorts Philippines
With package rates starting at P 4,000++ per night, guests can have a gem of an experience with a host of benefits unique to each property, including great dining discounts, fun water activities, and crystal scrub massages, to name a few. Terms and conditions apply.
To know more about The Discovery Leisure Company, please visit the official website at discoveryhotels-resorts.com.
To check the complete details of the event, please log on to https://www.facebook.com/events/376819405833569/. For inquiries, please email at corpsm@discovery.com.ph.
The Discovery Leisure Company, Inc.
The Discovery Leisure Company, Inc. (TDLCI) is a Filipino luxury hotel group offering guests world class hospitality through their distinguished chains of various accommodation properties in key destinations across the Philippines.
TDLCI's collection of properties includes The Discovery Suites, a deluxe accommodation located in the Ortigas Business District in Pasig catering to business travelers and long-staying guests, Discovery Country Suites, a plush countryside bed and breakfast accommodation in Tagaytay, Club Paradise, a private island retreat in the world-renowned Coron, Palawan and Discovery Shores, an award-winning resort in Boracay's famous White Beach along Station 1. As an addition to the distinguished collection of the Discovery Group's esteemed accommodation brands, TDLCI introduces Discovery Primea, a luxury accommodation located in the Makati Business District slated to open first quarter of 2015.
The Discovery Leisure Company, Inc. (TDLCI) offers contemporary accommodation conforming to guests' discerning preference for comfort and quality.
To represent the Filipino's innate warmth and genuine hospitality, TDLCI is committed to provide its guests with the authentic Filipino "service from the heart".