Delta Tops Business Travel News Annual Airline Survey
Corporate travel buyers are calling Delta Air Lines (NYSE: DAL), the leading airline for the fifth consecutive year, topping the Business Travel News (BTN) Annual Airline Survey.
This is the first time BTN voters, who manage tens of billions of dollars in annual travel expenditures, have selected the same airline for five years in a row.
Delta swept all 10 survey categories for a second consecutive year, and recorded the largest average scoring margin between the airline and its competitors. BTN voters select the top U.S. carrier in the Business Travel News survey based on their perceptions of airline performance in negotiating and maintaining preferred programs, delivering service and providing value.
"We set winning BTN as our corporate goal every year, and we are proud that it reflects how corporate travel managers and travel agency partners value the service and support we provide," said Steve Sear, Delta Senior Vice President – Sales. "Delta people work tirelessly every day to create the global footprint and meet the travel demands of our customers, and we want them to see us as the company who is easiest to do business with on a worldwide basis."
During Delta's five-year BTN title run, the airline has solidified its domestic and international networks by making significant airport upgrades and adding more than 300 total daily departures from key markets in New York, Atlanta, Los Angeles and Seattle.
Additionally, Delta has further extended its global reach by adding partnerships with Virgin Atlantic, GOL, Aeromexico, China Eastern and Virgin Australia.
To date, Delta once again leads all major domestic global carriers in the U.S. Department of Transportation's metrics for on-time performance, completion factor, fewest baggage handling complaints and fewest overall service complaints.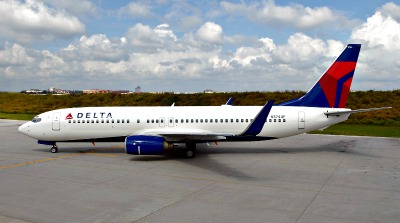 Delta Airlines
It was on the continued strength of these results that Delta's Global Sales team launched the Operational Performance Commitment (OPC) that guarantees it will outperform its top global competitors, or compensate corporations for falling short.
Customers repeatedly note that Delta's commitment to excellent operational performance and continued innovation makes the airline a top choice for corporate customers.
Capitalizing on Delta's more than US$ 8 billion in product, performance, and technology investments, Delta's Global Sales team has invested in creating meaningful, industry-first programs like OPC and Sky Partner Performance+ to assist businesses in their efforts to manage employee travel. These combined efforts have resulted in Delta's corporate revenue growing more that 20 percent since 2011.
"The award recognizes the efforts of 80,000 Delta employees, who are driven every day to serve customers better," said Delta President Ed Bastian in a memo to all employees.
"We continue to partner with superior brands and add routes to carry customers to where they need to go, all while providing guarantees of when their bags will arrive on the carousel. We also run, by far, the best operation in the industry. Corporate travel buyers know that we have their backs, and they appreciate the effort we make to provide customers with the very best travel experience." (PNA) LGI/PR/JS/EDS