DOT-Davao Region Promotes Major Summer Activities

From beach escapades to mountain adventures, the Davao region tourism industry has set a flurry of events to attract summer visitors.
The Department of Tourism XI led by Regional Director Art Boncato and partners from the local government and the private sector jointly announced two major events for the summer.
The third Mt. Apo Boulder-Face Challenge (April 27-28), is a grueling 24-hour adventure race which spans 113 kilometers of biking, trekking, water-tubing and road running disciplines set in the Mt. Apo foothill town of Sta. Cruz Davao del Sur.
It is dubbed as Asia's toughest eco-adventure race of which less than 50% of the participating teams get to finish the race. The winners of the previous two stagings of the event were teams composed of soldiers and policemen.
Julius Paner of the Sta. Cruz Municipal Tourism Office said that changes in the race particularly in giving more length to running and biking would provide more chances of winning to civilian teams. In the past races, a large part of the race were more geared towards mountain trekking.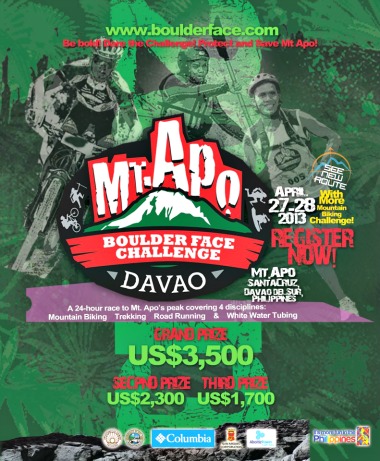 Last year about 80 kilometers were allotted on trekking, this year it has been reduced to 50 kilometers.
The 2012 Boulder Face challenge saw the participation of 40 teams of which 11 were foreign teams from Singapore, Australia, Vietnam, Indonesia and Hongkong.
According to Sta Cruz Councilor Fernando Ugdoracion, the Mt. Apo Boulder Face Challenge is already an institutionalized event in Sta Cruz as part of its Pista sa Kinaiyahan (Festival for Nature) the event serves as a call to protect and conserve Mt. Apo.
Meanwhile the Island Garden City of Samal is revving up for its Visit Samal 2013, a yearly summer promotional event for the island which according to DOT-XI head Art Boncato is the face of tourism in the region.
Araceli Ayuste of the Davao del Norte Provincial Tourism Office and a resort owner bared that resorts in the island were all fully-booked during the holy week.
Ayuste said that 21 out of the 42 resorts in IGaCoS recorded 7,000 visitors (spent overnight on the resort) during the Lenten break. She said that if the other resorts could submit their reports, the data could show ground-breaking numbers.
In 2012, the DOT-XI recorded 300,000 visitors to the island, the highest ever in the island's history.
Boncato said that the visitor figures indicate that the Visit Samal initiative has been a success, he said that this year's Visit Samal the private sector through the Samal City Resorts Owners Association is taking a more active role in the annual summer event started by the DOT in 2011.
Ayuste said that they working to institutionalize Visit Samal through a municipal ordinance similar to what Sta. Cruz has done with their Mt. Apo Boulder Face Challenge. (PIA/Rudolf Ian G. Alama)