Boosting World-Class Hospitality at DavOr's Tourism Sites
In its bid to provide a world-class hospitality for travelers and tourists, the Provincial Government of Davao Oriental has partnered with the private sector for the management of the five newly constructed eco-tourism development projects already established here.
According to the Provincial Tourism Office, the Provincial Government has entered into a Public-Private Partnership through a Joint Venture Agreement with the long-established resort operator Malagos Garden Resort.
The eco-tourism sites that will be covered in this scheme are the: Davao Oriental Welcome Park in Banaybanay town, Mount Hamiguitan World Heritage Park in San Isidro town, Cape San Agustin Eco Park in Governor Generoso town, Pusan Point Eco Park in Caraga town, and Aliwagwag Falls Eco Park in Cateel town.
Already on its 21st year of operation, the Malagos Garden Resort, which possesses a team of experts and a pool of manpower, will take charge of the food cottage operation and management of the tourism facilities.
Governor Nelson L. Dayanghirang expressed his strong support to the plan, which was initiated in the previous administration under former Governor Corazon N. Malanyaon.
During the pre-implementation conference held at the Provincial Capitol, Governor Dayanghirang said that there will be a mutual benefit for the province and the private party in this partnership as there will be a sharing of resources.
"What we have here are world-class eco-tourism development and it is but apt to tap an experienced team to provide topnotch service," he added, stressing that this strategy will maintain and further develop the existing tourism sites.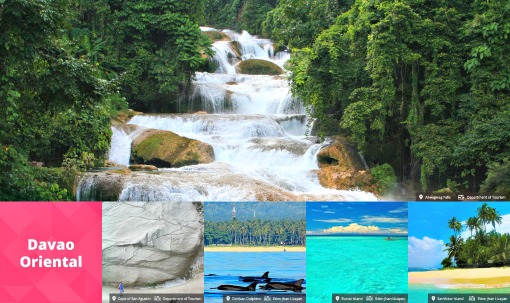 "The Provincial Government has already laid the foundations of a world-class hospitality and tourism to complement our beautiful landscapes. But the government's resources cannot sustain it alone," he said.
Governor Dayanghirang says the long-term idea is to encourage the private sector to invest and put up more developments here. "The government only serves as the precursor of all these developments," he says.
Meanwhile, another advantage of this partnership would mean additional source of income for the province through shares from the proceeds of the operation.
The municipal government as well as the barangay will also get shares from the proceeds.
According to the Provincial Planning and Development Coordinator, Freddie C. Bendulo, the province expects its Return on Investment on all eco-tourism development projects within a ten-year period.
In addition to the many promising benefits of the partnership, there is employment generation. The Malagos management said they will be prioritizing qualified candidates from the local community for the job vacancies.
For the part of Provincial Government, the agreement states that it will facilitate and regulate the operations of the private party following the guidelines mandated by law in terms of government and private partnership.
Based on the agreement, the private operator will have a five-year lease contract that will be subjected to yearly renewal. The contract will also undergo another bidding after ten years.
The Province of Davao Oriental is among the 21 inclusive tourism cluster destinations in the Philippines and among the ten priority cluster destinations called Tourism Development Areas by virtue of Republic Act 10560. It is also included in the National Tourism Development Plan as part of the Davao Gulf and Coast tourism areas. (Karen Lou Deloso)