Davao City Gears up for Kadayawan Fest

There is no turning back for the city government and the private sector to push through with the 32nd Kadayawan sa Davao amid an extended Martial Law period in Mindanao. In fact, the city already started sprucing up city streets with colorful banners.
City Tourism officer Regina Rosa Tecson Monday said there will be no cancellation of activities.
"Ever since we started planning we are already working hand in hand with the security sector," Tecson said. "The security sector is helping us in the planning stage to ensure the safety and security of all our events."
Tecson said the Kadayawan committee is intensifying the promotion of Kadayawan festival to encourage more tourists to come and witness the celebration of Davao's culture and bounty harvest.
"The Kadayawan sa Davao is a celebration of the bounty harvest of the 11 tribes in the city," she said.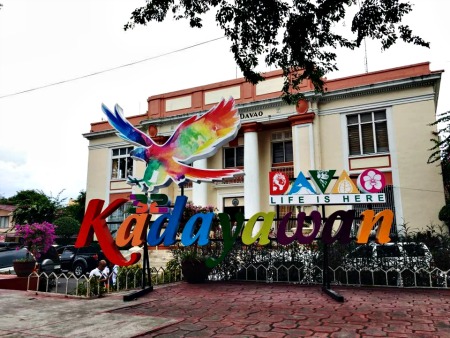 Davao City Kadayawan Fest
Tecson said the city is confident despite the declaration of Martial Law extension that tourists will still come and visit the city to witness the event. The negative perception of martial law in Mindanao has taken a toll on the tourism industry in the city.
Earlier, Mayor Sara Duterte-Carpio said that the Kadayawan events will continue as planned despite the extension of Martial Law.
Duterte-Carpio earlier said that it would be interesting to celebrate Kadayawan under Martial Law and showcase the festivity of the city.
Public Safety and Security Command Center (PSSCC) chief Benito De Leon said security measures are now readied for the 32nd Kadayawan sa Davao slated on August 14 to 20.
De Leon said troops from Task Force Davao, Joint Task Force Haribon, Davao City Police Office and augmentation from Police Regional Office XI and 10th Infantry Division will be deployed in the city during the entire celebration.
CCTV cameras are also installed in strategic places to ensure the safety of the Davaoeños and local and foreign tourists who will join the celebration. (Funny Pearl Gajunera/PNA)