Visit Davao Fun Sale Until May 31

How would you feel traveling in a good place while enjoying discounts from various establishments?
In Davao, these are possible as the Department of Tourism's (DOT) Visit Davao Fun Sale (VDFS) 2016 campaign is up until May 31.
Whether you're after adventure and sports, culture and arts, party, or simply fun and leisure, VDFS offers a wide array of options for you.
Now on its second year, the VDFS remains the widest and longest-running tourism sale on shopping, accommodation, dining, tours, adventure, as well as spa and wellness. It is Davao Region's pitch to make the place among the top-ranking destinations in the country.
In an interview with reporters, DOT XI Regional Director Roberto Alabado III said the agency currently targeted the international market.
"Our local (tourist) market is now stable," he said, adding that MICE (meetings, incentives, conferences and exhibitions) was the biggest contributor in the local market share. About 30 percent of the whole tourist market was from MICE.
"The main purpose is to introduce Davao as an alternative destination," Alabado said. The Regional Director said they had talks with Korean Air and China Air.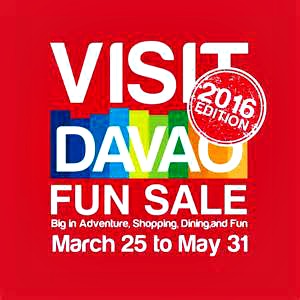 "They were impressed with what they saw; with the safety standards; with the airport preparedness. They will keep Davao in their list, in their active file," he said. As to local carriers such as Cebu Pacific, Philippine Airlines and Air Asia, Alabado said DOT XI was also negotiating with them to lower the air fares.
Last year's VDFS proved to be successful, as the DOT reported a 42-percent increase in the tourist arrivals in the months of April to May, compared with the same period in 2014. For 2016, VDFS features 15 discounted adventure and cultural tour packages from islands to highlands. At least 50 percent off the original rates will be enjoyed by travelers from March 25 until May 31.
A unique addition in this year's VDFS is the "Pub Crawl", wherein visitors experience the night life in Davao. Guests will be toured to several bars located few blocks away from each other.
Meanwhile, the Retailers Association or mall sector, Hotels and Resorts Sales and Marketing Association or accommodation sector, Davao Wellness and Spa Association or wellness sector, MICE Organizers Ventures Davao or event organizers, the Restaurant Owners Association of Davao City or dining sector, and the Visit Davao Tours Consortium, have maintained their collaborative commitment with the DOT, the Davao City Tourism Operations Office and the Davao City Council Committee on Tourism.
Alabado also said there were still a lot of sites that were yet to be promoted. "For instance, Samal, an untapped island, is among the new islands that the DOT is currently promoting," he said.
The local government Island Garden City of Samal (IGACOS) and Sta. Cruz, the provincial government of Davao Del Norte, and the Local Economic Development - Local Governance Support Program (LGSP) have also signified their full participation and support for VDFS. (PNA) RMA/Ma. Cristina C. Arayata