Davao City Attractions - Finding Peace and Quiet in the 'Melting Pot of Mindanao'
It is almost impossible to mention 'Davao' and not associate it with the tough-talking, crime-busting Davao City Mayor Rodrigo 'Rody' Duterte.
Called 'Digong' by his fans, the reputation earned by the 70-year-old mayor has led to him sometimes being referred to as a tourist attraction himself —at least among domestic tourists whose curiosity has taken the better of them.
Though tourists do not necessarily visit Davao City or the 'Melting Pot of Mindanao' just to see or take 'selfies' with the mayor, his name always happened to be mentioned in conversations and anecdotes.
His late father Vicente Duterte, was former governor of Davao and Soledad Roa and there is a barangay named after him. Tour guides never fail to include this trivia in their spiels.
The appeal of Davao, however, relied not just on the good or bad press it received whether it involved Digong or not. It is now known as third to Manila and Cebu as the most important urban center in the Philippines.
From a tourist's point of view, Davao is also quite peaceful and quiet which leads me to question whether local ordinances such as smoking, liquor and fireworks bans being strictly imposed would fare well in Metro Manila.
The city is also slowly working on positioning itself as the world's largest fruit market with the upcoming Asia Fruit Market (Phase 1) slated March this year. This event will serve as a venue to showcase Mindanao fruits, crops, and vegetables.
As a tourist destination, the whole Davao Region has established itself as a safe place. And although his political opponents believe otherwise, records have shown a 27.64 percent increase in tourist arrivals with 2.52-million visitors in 2014.
In fact, the Davao region acquired the most number of tourist arrivals in Mindanao followed by Northern Mindanao, CARAGA, Soccsksargen, Zamboanga peninsula, and ARMM.
Rest & Relaxation - R&R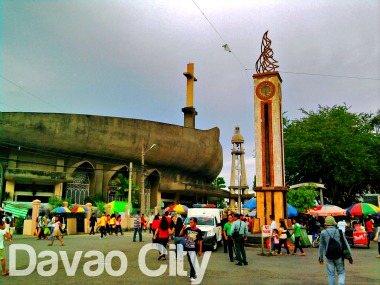 Davao City Attractions - San Pedro Cathedral
Department of Tourism (DOT) Region 11 Director Roberto Alabado said that the top destination for tourists who visit Davao is Samal Island, home to high-end resort Pearl Farm Beach Resort. Here, rest and relaxation/recreation won't be difficult.
Samal Island has pristine beaches with white sand though not as fine as that in Boracay. Its advantage is that it has not yet fell victim to the mass tourism. Locals say that they would want to keep it this way.
The island also keeps hidden a small waterfall, Hagimit Water Falls, which serves as a dive sport for locals who have built cottages around for visitors. It is not for those who tire easily, as the journey down the concrete steps is equal to a 15-minute workout.
Animal lovers may opt to visit the 1,000-foot-long Monfort Bat Cave which is home to about 2.4 million bats. It made the Guinness Book of World Records in 2010 as the largest colony of Geoffroy's Rousettes in the world.
Adventure Time
From Samal Island, tourists with a thirst for adventure can easily take a roro to Davao City and drop by or stay over at the Eden Nature Park and Resort where rides like the skyrider and skycycle are available.
It also has its newest attraction, the skyswing, which hoists a person 80 feet above the ground and releases him or her to a heart-pumping swing ride.
There are also fun activities for non risk-takers like horseback riding, kalesa, fishing, and the guided shuttle tour which brings tourists around the man-made mountain resort which is 3,000 feet above sea level.
The park has over 100,000 pine trees spread throughout 80 hectares that it has once been dubbed as the 'Tagaytay' of Davao.
Sweet Escape
The Davao experience will not be complete without visiting renowned durian candy factory, Apo ni Lola Durian Delicacies, a small and quaint little shop located in No. 28 San Miguel Village, Matina 8000.
Immediately after alighting from our car, sales people will start handing out tourists free samples of different durian-based products. My personal favorite is the creamy durian candy bar which is worth Php 35 apiece.
There are also yema, tarts, pies, hopias, cakes, chips, which were also made from durian. They go perfect with durian refreshments both hot—cappuccino, latte, mocha and cold—frappe, iced durian, smoothies.
For picky eaters who may opt for something besides durian, there are also other fruit-based products like lanka, mangosteen, marang and other Davao fruits. Interested buyers may also visit the official Apo ni Lola Durian Delicacies website www.aponiloladurian.com for more information and to order online.
Shopping for pasalubong? Tour guides will take tourists to the Aldevinco Shopping Center located in Claro M. Recto Ave, Poblacion District. Here bargaining for handicrafts, textiles, batik, weavings, carvings and jewelry is commonplace.
My stay in Samal Island and Davao City was short and bittersweet mainly because my companions and I were there for work and not so much to travel (although it was part of the itinerary) but it has made me want to revisit the region immediately even if it means filing a leave right after the holiday break. (PNA)RMA/Azer N. Parrocha