Hotel, Twin-Cinema to Rise at Fantasyland in Dapitan, Zamboanga del Norte

The five-month old theme park of Gloria de Dapitan Fantasyland in Western Mindanao is readying its expansion projects with a capital expenditure of close to one billion Pesos and will include the building of a 12-story hotel.
In an interview with Gloria de Dapitan Entertainment Complex vice president Dindo Ilagan, he said the projects aside from the high rise hotel of over 300 rooms is the twin-cinema that will be located right at the amusement park.
The Gloria de Dapitan Entertainment Complex in Dapitan City, Zamboanga del Norte comprises a thousand hectares area but the Fantasyland which has an area of 25 hectares has used up only seven hectares for the existing P200 million amusement park.
Ilagan said there will be continuing expansion of projects but in the pipeline is the construction of the hotel where groundbreaking will be by first quarter of 2010. He said the hotel will be named Case de Real or the House of Rizal in honor of the country's hero Jose Rizal who lived in Dapitan during his time.
"We are right now finalizing agreements with our partners," he said.
Although he did not elaborate on the business construction he said groundwork will begin early first quarter next year. The hotel will be constructed in 36 months but the cinema in a span of 16 months, he said.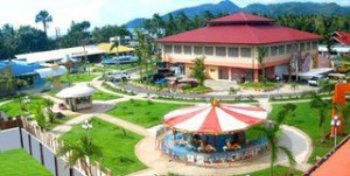 Fantasyland in Dapitan, Zamboanga del Norte
Fantasyland which has 20 mega rides and 11 small rides is being frequented by groups of visitors from Iloilo, Pagadian, Cebu, Bohol, Tagbilaran and Davao and others.
He said they offer a package of P3999 per pax with gateway in Dapitan City for 3 days 2 nights tour to include transportation and accommodations at Dakak, a river cruise and the historical shrine and all rides free with six meals served in buffet.
Meanwhile he said the construction of the twin cinema will be for a shorter period and equipment will still be purchased abroad just like the facilities used at the park now where most of the rides where purchased abroad like the roller coaster that was bought in California, USA.
"We see to it that all facilities are of good quality as we ensure the safety of our tourists," he said.
The Fantasyland is located within the Gloria de Dapitan complex in Dawo village, along Sunset Boulevard in Dapitan.
Among the rides that kids enjoy most are the choco-cup ride,, bump car ride, the midi-flume ride, the carousel, the swinger, the Apollo, the mini-train, a giant roller coaster, horror house and the inter-active rides like Happy Journey, Fight Shark, World of War, Pirate Ship, Ferry's Wheel, Horror walk, go kart race circuit and Telecombat.