Cruising the South China Sea Aboard Superstar Virgo
​ From the moment you set foot on deck, feel the ship move beneath your feet and gaze into the sea, stretching out ahead where you can move freely with arms wide open, you realize that unlike a flight, a cruise is all about the journey and not the destination.
This is the main difference between flying and cruising according to Finnish Captain Jan Blomqvist of Superstar Virgo, who was free to speak to some passengers on the last day of the six-day inaugural voyage that begins and ends in Manila.
"You don't ride a plane to relax but you don't ride a ship to get to your destination quickly. It's really up to you," Blomqvist told reporters, acknowledging that both modes of transport skill and focus to operate.
In the afternoon of March 19th, Superstar Virgo, the flagship of the Hong Kong-based Star Cruises line, made Manila its home port for the first time despite lack of port facilities.
From Manila, the 13-story, 2,000-person capacity ship proceeded to Laoag, Ilocos Norte to Kaohsiung, Taiwan; Hong Kong and back to Manila on March 24 in what was dubbed as "The Jewel of the South China Sea" itinerary.
Despite mixed reviews for convenience of check-in, on board activities and food — not to mention the insanely long lines - guests found plenty of reason to enjoy the week-long journey.
Here are among the best activities guests can enjoy on board Superstar Virgo:
(1) Take a dip in the pool -- The Parthenon pool draws inspiration from the Doric temple of Athena built on the acropolis at the Athens. It located at deck 12 and is open from 7 a.m. to 10 p.m. if weather permits. The pool comes with a 100-meter mega water slide, which is open from 9 a.m. to 1 p.m. only. There are also four Jacuzzis for guests who prefer to sit back and enjoy the view.
(2) Hit the gym; get sporty -- Sweat it out in the Apollo Spa and Fitness Centre that has all the gym equipment fitness buff guests need. It's open from 7 a.m. to 1 am and is also located at deck 12, just a few strides away from the pool. When you're through with the treadmill, the ship also has its own basketball court, golf course and jogging circuit at the Sports Deck (deck 13). Cruising won't be a good excuse for not hitting the gym or practicing your free throws. It's also the perfect spot for sun-bathing.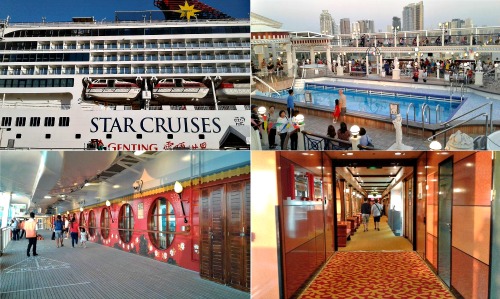 Cruising the South China Sea Aboard Superstar Virgo
(3) Relax in the sauna and salon -- Oscar's Hair and Beauty Salon offers facial therapy, body scrub, manicure and pedicure, waxing, haircut, perm and color. Spa Thai, Swedish, Balinese, massages and Chinese acupressure massage, body scrub with body massage, foot massage. It's best to have advanced booking to secure preferred date and time of treatment. It's located at deck 12 and open from 9 a.m. to 1 a.m.
(4) Shop your heart out -- There's no way guests are leaving the ship without souvenirs and shopping. The ship has three retail shops to purchase chocolates, perfume, cosmetics, handbags, accessories and the like. Visit Ports O'Call (deck 12), Star Boutique (deck 12) or the ever reliable Duty Free (deck 8 and 12). Most items for sale are tax-free, so splurge away because you deserve it. Also, watch out for promos such as the "buy three chocolates and get one free" promo.
(5) Visit the library/writing room – You'll find the quietest part of the ship at deck 12, just a few steps away from the pool. The library has over a hundred book titles and magazines and offers Wi-Fi access. If you're looking for a place to compose a business e-mail, this is it. Some guests see it as alternative napping quarters, but it's best to just return to your room. It's open from 9 a.m. to 12 mn.
(6) Play video games -- If video games help keep your mind off the ship's rocking motion, go to the Starlight Video Arcade and you'll find the youngest passengers in the ship and the ones young at heart. The arcade gives you assorted PS4 games to choose from including Grand Theft Auto, FIFA and Tomb Raider. It's located at deck 10 and open from 9 a.m. to 2 p.m. and again from 6 p.m. to 1 a.m. Pay HKD 70 for an hour game time and HKD 35 for half an hour game time.
(7) Sing in a Karaoke bar – Channel your inner Celine Dion and pay only HKD 108 to sing "My Heart Will Go On" in the Karaoke TV (KTV) bar at deck 7. The charge comes with five chicken wings, fries, fruits and two bottles of either soda or iced tea. Shell out HKD 280 for fries, fruits and wine, sans chicken wings. Guests can also order food from the Asian restaurant, Blue Lagoon, just beside it. There are three rooms inside the KTV which can seat five to six people. The biggest room can seat up to 20 people. It's open from 4 p.m. to 3 a.m.
(8) Watch a live show – Don't even think about watching TV. Instead, head on to The Lido Theatre at deck 7 and 8 aft and watch world-class performances from jazz nights, magic shows and disco dancing. It can seat over 800 people. Shows, which usually start at 8 p.m. onwards, include: 1,000 Nights, a story about the fictional King of Persia brought to life by dancers and acrobats; Rick Green's Magic Show which features both large scale illusions to close up magic performances; and Blonde Bombshells, the late-night adult show starring blonde dancers in the most alluring dance numbers.
(9) Go on a food trip -- Superstar Virgo has over 10 restaurants and food stalls, some inclusive with the cruise fee while others would require extra fees. Its main and restaurant, Genting Palace (deck 6) offers Chinese cuisine; Samurai restaurant (deck 8) lets you select from a variety of Japanese food; the Palazzo (deck 7) serves Italian and Western food; and Taj (deck 8) offers an Indian cuisine with no pork and lard. Meanwhile, you can get Italian ice cream at Café Gelato right beside the pool. Restaurants, which have varying operating hours, are scattered all over the ship so be sure to request for a map of the ship or take down notes.
(10) Chill in a bar -- Although most restaurants offer liquor, one of best places to have your alcohol fix is in the Galaxy of the Stars (deck 12) that has a Show Lounge with live entertainment and activities. It also has an Observatory Lounge for early-rising guests who wish to get the best view of the sunrise. The Taverna (deck 13) also provides a variety of international beers and wines and outdoor dining. For clubbing, Celebrity (deck 13) is the place where DJs spin your favorite music while you choose from a variety of vodkas, spirits and specialty cocktails.
With so much to do on a cruise, shore excursions may not even part of the itinerary unless you're willing to spend extra money to make the experience even more memorable than it already is. (PNA)Azer N. Parrocha