Cebu to mark Coral Triangle Day with Beach Clean ups, Mangrove Planting

Beach clean-ups and mangrove planting, among other major activities, will be held in Cebu to mark the international celebration of Coral Triangle (CT) Day on June 9.
CT Day is an observance around the CT region to highlight the importance of marine conservation and to raise awareness on this global center of marine biodiversity.
CT is a six million square kilometer ocean expanse that contains the highest number of reef building corals on the planet. Its spectacular reefs systems are home to thousands of whales, dolphins, rays, sharks and six of the world's seven species of marine turtles.
Spanning across six countries in Asia and the Pacific including Indonesia, Malaysia, Papua New Guinea, the Philippines, Solomon Islands and Timor Leste, the CT is also a nursery ground for highly valuable tuna species and much sought- after reef fish species.
The CT directly sustains the lives of more than 120 million people who heavily depend on marine resources for food and income.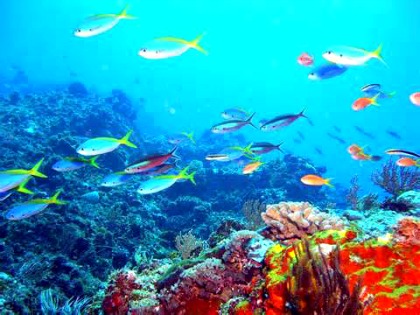 Coral Triangle, Philippines
But environmental issues such as coastal development, destructive fishing, overfishing, unsustainable tourism, illegal harvest and trade of endangered species and climate change, among others are taking a heavy toll on the CT's fragile marine ecosystem.
The CT Day, envisioned to be an annual open-sourced event, hopes to empower individuals to take specific action to help protect and conserve this globally significant marine ecosystem.
In Cebu, four barangays in Lapulapu City will be the sites for the beach clean ups namely in Mactan, Ibo, Buaya and Punta Engaño. Leading resorts and hotels in the city such as Crimson Resort and Spa, Shangri-la Mactan and Plantation Bay have partnered with local non-profit organization Ocean Care and bake shop chain Arbee to organize the simultaneous beach clean-ups.
On the same day, the Lapulapu City Marine Sports and Boat Operators Association will organize an underwater dive clean-up while the Department of Environment and Natural Resources (DENR) 7 has collaborated with the Philippine Navy to organize a mangrove planting in Mactan and Naga City.
In the country, CT Day activities are coordinated by the CT Initiative (CTI) National Coordinating Committee through the DENR, USAID's US CTI Support Program, and the various municipalities under the CTI Local Government Network.
Members of the CTI Local Government Network are San Francisco, Cebu; Ubay, Bohol; Lubang, Occidental Mindoro and Cortes, Surigao, Del Sur which have also organized beach clean ups and mangrove planting.
Individuals, organizations and establishments celebrating the CT Day are urged to post their videos or photos on www.thecoraltriangle.com/day to show the world what they are doing for the oceans during this day and to help create a truly regional community of CT supporters. (PIA 7 with PR/Fayette C. Riaen)