Halloween 2016 at Club Paradise Palawan
Club Paradise, one of the best resorts in Coron, Palawan prepares a Halloween adventure for kids and adults alike
A spooktacular adventure awaits guests at Club Paradise, a Coron, Palawan resort with this year's Halloween theme, "The Secret of Hallow Inn."
On 31 October 2016, kids are in for a wonderful treat as the Halloween event kicks off with an exciting scavenger hunt at 4:30pm followed by the announcement of the winners for the Best Halloween Costume and the distribution of complimentary snacks and giveaways for the kids.
After this fun activity, "The Secret of Hallow Inn" horror house opens at 5:30pm. Kids are invited to unravel the secret that beholds the Hallow Inn and enjoy the various activity booths such as mini-pizza making, super hero paper plates crafts, and body art.
To cap off the evening, kids will have a relaxing time during the special movie screening at 9pm.
Everyone will definitely enjoy the Halloween dinner at the beachfront at 7pm. Rate is at PHP 1,100++ per adult and PHP 980++ per child.
To check out more information about the event, please go to http://www.clubparadisepalawan.com/the-secret-of-hallow-inn.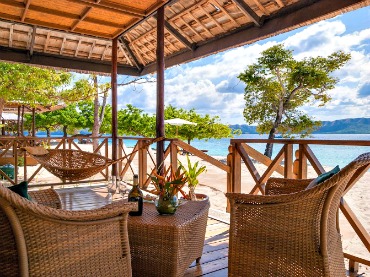 Club Paradise Palawan Beach Front Cabin
About Club Paradise Palawan
Club Paradise Palawan is a 19-hectare island resort in Dimakya Island of Coron, dotted along UNESCO's marine sanctuary.
The exclusive property features 55 rooms and cottages with scenic views of nature, as well as a spa, restaurant, and two bars.
Coron is a haven for the gentle dugong, colorful flora and fauna, and world-class reef and wreck dive sites.
Exciting day trip options include Coron Island Tour, Calauit Safari, Bottom Fishing and Island Hopping.
Club Paradise Palawan is one of five properties of The Discovery Leisure Company's portfolio of distinctive hotels and resorts.
Get updates through Club Paradise Palawan's official website at http://www.clubparadisepalawan.com.