Php500-M Botanical Garden, Ecotourism Park to Rise in Clark Green City
Officials of the Bases Conversion and Development Authority (BCDA) have partnered with the Earth Day Network Philippines, Inc. (EDNPI) and the Fern and Nature Society of the Philippines, Inc. (FNSPI) for the establishment of a Php500-million botanical garden and ecotourism park in Clark Green City.
The signing of a memorandum of agreement (MOA) was led by BCDA president and CEO Arnel Paciano D. Casanova, EDNPI president and CEO Isagani R. Serrano, and FNSPI president Yok Lin Gaw Monday at the BCDA Corporate Center in Bonifacio Global City, Taguig City.
The signing was witnessed by BCDA Chairperson Ma. Aurora Geotina-Garcia, EDNPI Board Trustee Carmelita E. Salvador and FNSPI Board Member Letica P. Ligon.
"We welcome this partnership as it will allow us to fulfill our vision of a green and ecologically healthy Clark Green City," Casanova said.
According to Casanova, the agreement shall cover the development and management of all of the Clark Green City Green Forest Reserve and the Clark Green City Green Infrastructure, specifically the areas designated as botanic garden, ecotourism park, green spaces, and greenways.
Under the agreement, EDNPI and FNSPI shall commit Php495.2 million as their minimum capital investment for the development of the botanical garden, restoration of 200 hectares of forest land, preparation of the project management plan, and the management and administration of the project.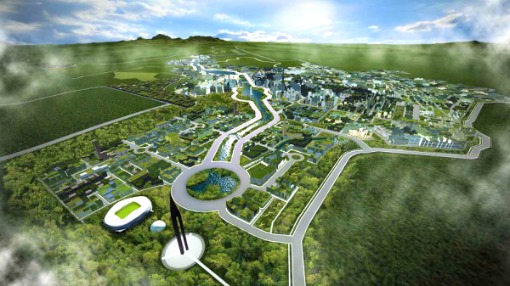 Clark Green City, Philippines
For its part, the BCDA will assign the project area to be designated as the Clark Green City Forest Reserve and the Clark Green City Green Infrastructure to EDNPI and FNSPI. BCDA will also provide and construct the support infrastructure facility within the project area.
EDNPI is the lead non-governmental organization (NGO) for the celebration of Earth Day in the Philippines and is engaged in programs and activities that promote environmental citizenship which include among others, reforestation and biodiversity conservation, solid waste management, and climate change adaptation and mitigation.
FNSPI is an NGO advocating the establishment of botanic gardens following international standards in the Philippines to promote the conservation and ethnobotany of Philippine native trees and plants and educating the public about their importance and uses.
Clark Green City is a 9,450-hectare Clark Special Economic Zone property in Tarlac currently being built by the BCDA.
It is envisioned as the country's first smart, green and disaster-resilient city that will showcase the country's capability to build a sustainable and modern city.
The city will adopt smart and green features like compact walkable communities with generous open spaces, bike lanes, mass transportation, smart utilities, high-bandwidth connectivity, protected biodiversity, energy efficiency and urban farming, among others, making it one of the country's most livable cities of the future. (PNA) LAP/zst/MDDR/ps