Cebu Thrives on Korean Arrivals

More and more visitors from South Korea looking for relaxation and recreation are now turning their heads toward Cebu, the "Queen City of the South," which, according to the Department of Tourism (DOT), may yet also earn the moniker, "Seoul of the Philippines," with Korean arrivals coming close to one million in 2017.
DOT-Region 7 Director Shalihmar Hofer Tamano has credited the peace and order situation, improved connectivity and the renowned Filipino hospitality for the Cebu tourism's boom.
"Like what Secretary Wanda Teo says, more than anything else, it's the unique and genuine Filipino hospitality and the Cebuano charm that attract Koreans, Japanese and Chinese visitors to the region," the official said, after a get-together with officials of the Korean Consulate and members of the Korea Travel Agencies Association.
In 2016, Tamano said over 840,000 tourists from South Korea arrived in the region, mostly staying in Cebu's islands including Bantayan, Mactan, Camotes, Oslob and Malapascua, as well as Cebu City, the Philippines' cradle of Christianity.
He noted the possibility that Korean arrivals in the province might have reached a million in 2017, even as data are still being carefully collated.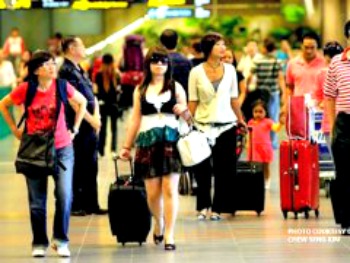 During the meeting with Korean Consul-General Oh Sung-Yong, Tamano assured of constant coordination with the Philippine National Police and military authorities to ensure the safety of the burgeoning number of Korean visitors in the area, particularly in the provincial capital Cebu City.
Tamano also acknowledged the efforts of the DOT-Seoul Office in promoting Cebu and other Philippine destinations, particularly at the annual Korea Travel Fair.
"I wouldn't be surprised if Cebu would soon be known as Seoul of the Philippines, Koreans' home away from home," he said.
Tamano said DOT's "holistic approach," combining eco-agri-faith tourism, has attracted an unbelievable number of foreign, balikbayan and local visitors.
"This year's Sinulog festival alone drew hundreds of thousands of international and domestic tourists into Cebu City," Tamano said. (PNA/Joyce Ann L. Rocamora)