Cebu Pacific Air Takes Delivery of its First A320 With Sharklets

First and only Philippine carrier to operate the latest version of fuel-efficient A320 Family
Cebu Pacific Air took delivery of its first A320 equipped with Sharklets today during a ceremony in Manila, becoming the first operator of the new fuel-saving wing tip devices in the Philippines.
Sharklets are newly designed wing-tip devices allowing airlines to reduce fuel burn by up to 4% on longer sectors. They are an option on new-build A320 Family aircraft, and are standard on all members of the A320neo Family. Cebu Pacific Air today operates 34 A320 Family aircraft, and has 48 more on order for future delivery, comprising 18 A320ceo and 30 A321neo.
"In line with our strategy to operate the youngest, most-modern fleet possible, we are delighted to become one of the first airlines in the world to introduce the A320 with Sharklets", said Lance Gokongwei, CEB President and CEO. "Thanks to the four-percent fuel savings offered by the Sharklets, we will further benefit from the A320 Family's unbeatable operating costs, making sure we remain competitive by offering low fares, together with the most extensive route network, to our passengers."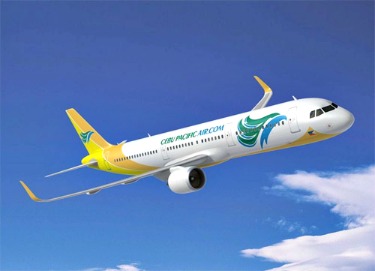 "Cebu Pacific is one of the great success stories in the Asian low cost market," said John Leahy, Chief Operating Officer, Customers, Airbus. "The additional economic and environmental efficiencies offered by the Sharklet-fitted version of the A320 will enable the airline to benefit from even lower operating costs and further enhance its competitive position in the fast-growing Asian market."
Sharklets are made from light-weight composites and are 2.4 meters tall. Cutting airlines' fuel bills by around four percent, Sharklets offer the flexibility to A320 Family operators of either adding around 100 nautical miles more range or allowing increased payload capability of up to 450 kilogrammes.
The A320 Family is the world's best-selling and most modern single aisle aircraft Family. To date, over 9,000 aircraft have been ordered and over 5,400 delivered to more than 380 customers and operators worldwide.
CEB operates the most extensive network in the Philippines with 32 domestic destinations and hubs in Manila, Cebu, Clark, Iloilo, Kalibo and Davao. It offers 21 international destinations, namely Bangkok, Bali, Beijing, Brunei, Busan, Dubai, Guangzhou, Hanoi, Ho Chi Minh, Hong Kong, Incheon (Seoul), Jakarta, Kota Kinabalu, Kuala Lumpur, Macau, Osaka, Shanghai, Siem Reap, Singapore, Taipei and Xiamen.
About Cebu Air Inc. (PSE: CEB)
Cebu Air Inc. is the largest carrier in the Philippine air transportation industry, offering its low-cost services to more destinations and routes with higher flight frequency within the Philippines than any other airline.