Cebu Pacific Receives new A330-300 Aircraft in Time for the Holiday Peak
​The Philippines' leading budget carrier, Cebu Pacific Air received a new Airbus A330-300 aircraft creating more available seats for our valued guests in time for the holiday peak.
Starting December 20, 2016, CEB will be utilizing this aircraft for flights between Manila and Hong Kong, making available over 9,800 available seats per week.
This upgrade reflects a 22% increase compared to the number of seats offered in the previous periods, which then allows CEB to maintain its position as the largest Philippine carrier operating the Philippines – Hong Kong market.
"CEB also takes pride as the only Philippine carrier linking Hong Kong to other cities in the Philippines, such as Cebu, Clark and Iloilo," says Atty. JR Mantaring, Vice President for Corporate Affairs of Cebu Pacific.
With this easy connectivity to such hubs, CEB aims to strengthen economic trade and tourism from one of Asia's largest financial centers to the Philippines.
This new aircraft, configured with 436 all economy-class seats, will join CEB's existing fleet of six A330s flying on long haul and selected regional and domestic routes.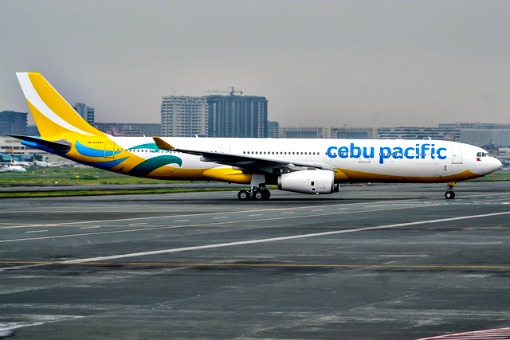 CEB continues to modernize its current 58-strong fleet of five Airbus A319, 36 Airbus A320, seven Airbus A330, eight ATR 72-500, and two ATR 72-600 aircraft to further expand its route network and frequencies all over the world.
Recently, the airline announced two new domestic routes from Manila to Masbate and Tablas. With these additions, CEB now offers flights to 38 domestic and 30 international destinations, spanning Asia, Australia, the Middle East, and USA.
For bookings and inquiries, guests can visit www.cebupacificair.com or call the reservation hotlines (+632)7020-888 or (+6332)230-8888. The latest seat sales can be found on CEB's official Twitter (@CebuPacificAir) and Facebook pages.
Guests may also download the Cebu Pacific official mobile app on the App Store and Google Play.
About Cebu Air Inc. (PSE: CEB)
Cebu Air Inc. is the largest carrier in the Philippine air transportation industry, offering its low-cost services to more destinations and routes with higher flight frequency within the Philippines than any other airline.