Cebu Pacific Profit Climbs 414% in 2015
Cebu Pacific posts net income of P4.4 billion
The Philippines' leading carrier, Cebu Pacific (PSE: CEB), recorded a net income of P4.4 billion in 2015, a growth of 414% from the previous year, propelled by robust passenger and cargo revenues, and lower operating expenses.
The Cebu Pacific Air group's total revenues went up by 8.7% to P56.5 billion, on the back of sustained growth in passenger volume on key domestic and international destinations. The airline's improved presence in emerging markets, supported by a conservative fleet expansion plan, also contributed to the upward trend.
"CEB's dynamic market has grown exponentially in two decades, thanks to the continued trust and patronage of our valued guests, and the staunch support of airline regulators and stakeholders both in the Philippines and abroad. Our passengers now number over 125 million since our inception – a testament to our commitment in enabling everyJuan to fly, through our extensive and most affordable flight network," said Atty. JR Mantaring, CEB Vice President for Corporate Affairs.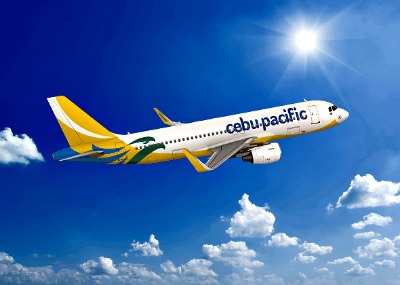 CEB flew a total of 18.4 million passengers in 2015, up 8.9% from the 16.9 million passengers flown in 2014. The record numbers boosted passenger revenues to P42.7 billion, an increase of 6.2% year-on-year.
Cargo revenues likewise posted an upsurge of 10% to P3.5 billion, while ancillary revenues increased by 19.6% to P10.4 billion due to improved online bookings and a wider range of ancillary revenue products and services.
In 2015, the number of flights also soared by 7.6% year-on-year with the launch of new routes such as Manila – Doha and Cebu – Tokyo (Narita), and increased frequencies of existing routes.
The airline ended 2015 with 55 aircraft, following the acquisition of five brand-new, wide-bodied Airbus A320 and A330 aircraft with a respective configuration of 180 and 436 all-economy class seats.
For bookings and inquiries, guests can visit www.cebupacificair.com or call (+632)7020-888 or (+6332)230-8888. The latest seat sales can be found on CEB's official Facebook and Twitter pages. Guests may also download the Cebu Pacific official mobile app on the App Store and Google Play.
Cebu Pacific's 56-strong fleet is comprised of 7 Airbus A319, 35 Airbus A320, 6 Airbus A330, and 8 ATR 72-500 aircraft. It is one of the most modern aircraft fleets in the world. Between 2016 and 2021, CEB expects delivery of three more brand-new Airbus A320, 30 Airbus A321neo, and 16 ATR 72-600 aircraft.
Cebu Air Inc. (PSE: CEB)​
Cebu Air Inc. is the largest carrier in the Philippine air transportation industry, offering its low-cost services to more destinations and routes with higher flight frequency within the Philippines than any other airline.