Cebu Pacific Flies 4.8M Passengers in Q1 2016
Cebu Pacific Posts 13% system-wide growth vs. same period last year
The Philippines' leading carrier, Cebu Pacific (PSE: CEB), flew 4.8 million passengers for the first quarter of 2016, a system-wide growth of 13% compared to the same period last year. On average, CEB's flights between January to March were 87% full.
In the month of March alone, CEB's passenger volume soared to 1.6 million passengers, up by 7% from the 1.5 million passengers carried in March 2015.
Periodic seat sales, lowest year-round fares, and robust travel demand contributed to the surge in passengers. Some of CEB's popular destinations for the first quarter include Tagbilaran, Dumaguete and Cagayan de Oro for domestic, and Hong Kong, Singapore and Dubai for international.
The airline also took delivery of two brand-new Airbus A320 aircraft in January, and another one this April, as part of its conservative fleet expansion plan.
"CEB remains committed to stimulating travel and driving trade and tourism opportunities in communities we fly to. We are optimistic that the airline will continue to rise as a significant travel enabler in and out of its home country," said Atty. JR Mantaring, CEB Vice President for Corporate Affairs.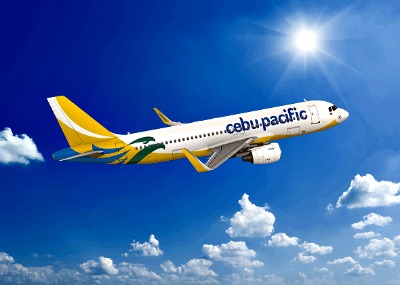 To cater to the upward travel trend this summer, CEB mounted over 60 additional weekly flights from Manila, Cebu, Iloilo, and Davao to several domestic and international destinations. The airline offers flights to a network of more than 90 routes on 64 destinations, spanning Asia, Australia, the Middle East, and USA.
CEB receives 36th Airbus A320 aircraft​
Equipped with fuel-saving wingtip devices called Sharklets, the Airbus A320 is coated with CEB's revamped livery which features shades of the country's land, sea, sky, and sun.
This delivery brings CEB's current fleet to 57, comprising 7 Airbus A319, 36 Airbus A320, 6 Airbus A330, and 8 ATR 72-500 aircraft. CEB's fleet remains one of the youngest in the world, with an average age of 4.78 years.
"We continue to optimize our growing fleet, enabling more passengers to reap the benefits of fast, seamless, and affordable air travel. We are looking forward to taking additional planes this year until 2021, to serve the ever-growing domestic and international markets," said Atty. JR Mantaring, CEB Vice President for Corporate Affairs.
Guests may avail of CEB's trademark lowest fares by visiting www.cebupacificair.com, or by calling the reservation hotlines (+632)7020-888 or (+6332)230-8888. They may also download the Cebu Pacific official mobile app on the App Store and Google Play.
The latest seat sales can also be found on CEB's official Twitter (@CebuPacificAir) and Facebook pages.
Cebu Pacific's 57-strong fleet is comprised of 7 Airbus A319, 36 Airbus A320, 6 Airbus A330, and 8 ATR 72-500 aircraft. It is one of the most modern aircraft fleets in the world.
Cebu Air Inc. (PSE: CEB) ​
Cebu Air Inc. is the largest carrier in the Philippine air transportation industry, offering its low-cost services to more destinations and routes with higher flight frequency within the Philippines than any other airline.