Cebu Pacific Boosts Flights to Popular Philippine Destinations
The Philippines' leading budget carrier, Cebu Pacific, promotes travel to popular Philippine destinations, through additional frequencies starting fourth quarter of 2016.
Domestic traffic is expected to increase for this year's semester and holiday break, with forward bookings reflecting growing demand for air travel to and from key destinations across the country.
From October 30, 2016 onwards, CEB aims to meet this demand by adding frequencies to and from 18 domestic destinations.
CEB's flights between Manila and Cauayan will increase from four times weekly to daily. The airline will also increase services out of Manila on the following routes: Manila-Bacolod (from 49 to 52 times weekly), Manila-Busuanga (25 to 28 times weekly), Manila-Cagayan de Oro (54 to 59 times weekly), Manila-Cotabato (9 to 10 times weekly), Manila-General Santos (28 to 31 times weekly), Manila-Legazpi (29 to 39 times weekly), Manila-Naga (11 to 14 times weekly), Manila-Pagadian (9 to 11 times weekly), and Manila-Zamboanga (25 to 33 times weekly).
Travellers from the Visayas region can also take advantage of additional flights between Cebu and the following destinations: Bacolod (additional 10 times weekly service), Butuan (3 times weekly), Cagayan de Oro (6 times weekly), Davao (7 times weekly), Dumaguete (3 times weekly), General Santos ( twice weekly), Iloilo (once a week ), Puerto Princesa (8 times weekly), Siargao (twice weekly), and Zamboanga (6 times weekly).
The airline also increased its flights from Mindanao, adding thrice weekly frequencies between Zamboanga and Tawi-Tawi for a total of 10 weekly flights, and an additional weekly frequency between Davao and Bacolod for a total of four weekly flights.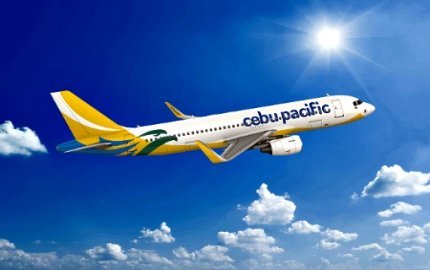 "By offering more flight options via our trademark lowest year-round fares, CEB consistently fuels passenger traffic, and with it trade and tourism opportunities, into communities that thrive on them.
We continue to grow and develop our network to further cultivate these local economies and entice investors to devote resources on our markets," said Atty. JR Mantaring, CEB Vice President for Corporate Affairs.
CEB currently offers flights to a total of 36 domestic and 30 international destinations, operating an extensive network across Asia, Australia, the Middle East, and USA.
Its 56-strong fleet is comprised of five Airbus A319, 36 Airbus A320, six Airbus A330, eight ATR 72-500, and one ATR 72-600 aircraft. Between 2016 and 2021, CEB expects delivery of 32 Airbus A321neo, two Airbus A330, and 15 ATR 72-600 aircraft.
For bookings and inquiries, guests can visit www.cebupacificair.com or call the reservation hotlines (+632)7020-888 or (+6332)230-8888. The latest seat sales can be found on CEB's official Twitter (@CebuPacificAir) and Facebook pages.
Guests may also download the Cebu Pacific official mobile app on the App Store and Google Play.
Cebu Air, Inc. (PSE: CEB)
Cebu Air, Inc. is the largest carrier in the Philippine air transportation industry, offering its low-cost services to more destinations and routes with higher flight frequency within the Philippines than any other airline.