Cebu Pacific Takes Delivery of Another ATR 72-600 High Capacity Aircraft
The Philippines' leading budget carrier, Cebu Pacific Air accepted delivery of another ATR 72-600 High Capacity aircraft.
This delivery is the second of the US$673-million order of 16 aircraft that was placed at the 2015 Paris Airshow.
The ATR 72-600, utilized by Cebgo (a wholly owned subsidiary of CEB), boasts of advanced avionics, improved performance in hot and high environments and enlarged cabin along with additional seating capacity. These added seats will help further lower unit seat costs enabling CEB to give its customers even more affordable fares.
The airline is modernizing its fleet to expand its route network and frequencies across the archipelago while continuing to support the Philippines' growing economy.
In a competitive environment such as the aviation industry, these new high capacity aircraft will allow CEB to reduce its fleet's fuel consumption and cost per seat while responding to the increasing demand for inter-island connectivity.
CEB will in fact launch on November 19 three new inter-island routes: Cebu to Calbayog, Cebu to Ormoc and Cebu to Roxas with its ATR fleet.
"This new addition to our fleet further forwards our commitment to provide for the growing travel trend while offering more competitive fares to our valued guests," said Alexander Lao, Cebgo President and CEO.
CEB Group's 9M 2016 net income grows twofold
Cebu Pacific, and its wholly owned subsidiary Cebgo, generated a net income of P7.1 billion from January to September 2016, equating to a 99.6% increase from the P3.6 billion earned in the same period last year.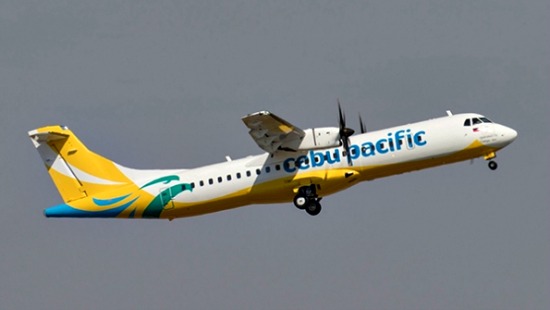 The Cebu Pacific Air group's 9M 2016 revenues surged to P46.7 billion, a growth of 10.5% year-on-year. Passenger revenues climbed by 10.1% to P35.4 billion, after CEB carried over 14 million passengers for the first nine months of 2016. Cargo revenues also went up by 2.5% to P2.5 billion.
Similarly, ancillary revenues soared by 14.9% to P8.8 billion consequent to the 6% growth in passenger traffic and 8.4% increase in average ancillary revenue per passenger. Improved online bookings, together with a wider range of ancillary revenue products and services, contributed to the increase.
"Our current numbers testify to the ever-growing market we cater to. We are affirmative that CEB's network will only continue expanding from here on out. We look forward to offering our trademark low fares to even more passengers in the years to come," says Atty. JR Mantaring, CEB Vice President for Corporate Affairs.
CEB is now preparing to launch three new domestic routes out of Cebu, to provide to the increasing inter-island travel demand in the Visayas region. Beginning November 19, 2016, the airline will be operating daily flights between Cebu and Ormoc (Leyte) and Cebu and Roxas (Capiz); and four times weekly flights between Cebu and Calbayog (Samar).
CEB offers flights to 36 domestic and 30 international destinations, covering an extensive network that spans Asia, Australia, the Middle East, and USA. Its 58-strong fleet, currently at 5.05 years, is comprised of six Airbus A319, 36 Airbus A320, six Airbus A330, eight ATR 72-500, and two ATR 72-600 aircraft. Between 2016 and 2021, CEB expects delivery of two more brand-new Airbus A330, 32 Airbus A321neo, and 14 ATR 72-600 aircraft.
For bookings and inquiries, guests can visit www.cebupacificair.com or call the reservation hotlines (+632)7020-888 or (+6332)230-8888. The latest seat sales can be found on CEB's official Twitter (@CebuPacificAir) and Facebook pages.
Guests may also download the Cebu Pacific official mobile app on the App Store and Google Play.
Cebu Air, Inc. (PSE: CEB) and Cebgo:
Cebu Air, Inc. is the largest carrier in the Philippine air transportation industry, offering its low-cost services to more destinations and routes with higher flight frequency within the Philippines than any other airline. Its wholly owned subsidiary, Cebgo, currently offers flights to 24 Philippine destinations utilizing an exclusive fleet of eight ATR 72-500 aircraft. Cebgo has two strategic hubs in the Philippines namely, the Ninoy Aquino International Airport (NAIA) Terminal 4 in Manila and Mactan Cebu International Airport (MCIA) in Cebu.