Cebu Pacific Air Inks Maintenance Pact With Air France KLM MRO 
The Philippines' leading budget carrier, Cebu Pacific Air taps Air France Industries KLM Engineering & Maintenance (AFI KLM E&M) to provide component support for its Airbus A320 fleet. The selection of AFI KLM E&M came following a call for tenders by CEB in September 2016 for the carrier's expanding fleet of Airbus passenger jets.
The long term contract covers a fleet of over 40 Airbus A320s, and encompasses full component support and solutions, including repairs and local pool access to maximize aircraft availability, for both its A320s and its future A321neos.
Cebu Pacific (CEB) currently has a fleet of 59 aircraft, comprised of four Airbus A319, 36 Airbus A320ceo, seven Airbus A330, eight ATR 72-500, and four ATR 72-600 aircraft.
"This is our first agreement with Cebu Pacific and also our first component support contract in the strategic Philippines market," said Gery Mortreux, Executive Vice President of Air France Industries.
Between 2017 and 2021, CEB expects delivery of 45 brand-new aircraft as part of its fleet renewal program. Comprised of 12 ATR 72-600 aircraft, one brand-new Airbus A330, and 32 Airbus A321neo, the new aircraft will bring the CEB fleet to 85 by 2021.
CEB has one of the youngest and most modern aircraft fleets in the world with an average age of 4.94 years.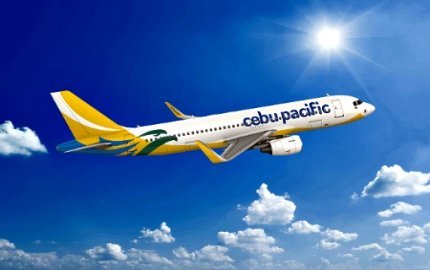 "We are extremely proud to number Cebu Pacific Air among our clients, and support the development of one of the most successful Low Cost Carriers in this fast growing market," added Fabrice Defrance, Senior Vice President Commercial AFI KLM E&M.
On the strength of this major contract, and of several other recently-won contracts in the region, AFI KLM E&M currently occupies strong positions in the South East Asia aircraft maintenance market. In 2017, AFI KLM E&M will see a sharp rise in the number of A320 support contracts, especially in Asia. In so doing, the Group is asserting its expertise on this aircraft, especially in the A320 and A321neo arena.
Cebu Air, Inc. (PSE: CEB)
Cebu Air, Inc. is the largest carrier in the Philippine air transportation industry, offering its low-cost services to more destinations and routes with higher flight frequency within the Philippines than any other airline. Together with its wholly-owned subsidiary, Cebgo, CEB has the most extensive network across the Philippine archipelago with a total of 37 domestic destinations, seamlessly connecting the most exotic island destinations in the Philippines to 29 international destinations across Asia, Australia, the Middle East, and the USA, bringing its total domestic and international routes to 104.
For bookings and inquiries, guests can visit www.cebupacificair.com or call the reservation hotlines (+632)7020-888 or (+6332)230-8888. The latest seat sales can be found on CEB's official Twitter (@CebuPacificAir) and Facebook pages.
Guests may also download the Cebu Pacific official mobile app on the App Store and Google Play.
AFI KLM E&M
Air France Industries KLM Engineering & Maintenance is a major multi-product MRO (Maintenance, Repair, Overhaul) provider. With a workforce of over 14,000, AFI KLM E&M offers comprehensive technical support for airlines, ranging from engineering and line maintenance to engine overhaul, aero structure and fan thrust reverser support, as well as the management, repair and supply of aircraft components, structured around a powerful logistics network. AFI KLM E&M supports almost 2,000 aircraft operated by 200 major international and domestic airlines.