Cebu Pacific Takes Delivery of its First A330-300

Cebu Pacific's first A330 widebody aircraft on lease from CIT
Cebu Pacific has taken delivery of its first A330-300 during a special ceremony in Toulouse today. The aircraft is the first of four A330s being leased by Cebu Pacific from US lessor CIT and will be used to launch the carrier's new long haul low fare operation.
Cebu Pacific has specified a single class layout for its A330 fleet seating 436 passengers. The airline will initially operate the first aircraft on medium haul regional routes, before launching its first long haul services to Dubai in October.
"The delivery of our first widebody aircraft marks a milestone for Cebu Pacific," said Lance Gokongwei, Cebu Pacific President and Chief Executive Officer. "The addition of the highly efficient A330 to our fleet ultimately translates to unbeatable operating costs, enabling us to offer the lowest possible fares to our guests. In addition, we will be the only Filipino carrier flying non-stop between Manila and Dubai, eliminating multiple stops or connecting flights."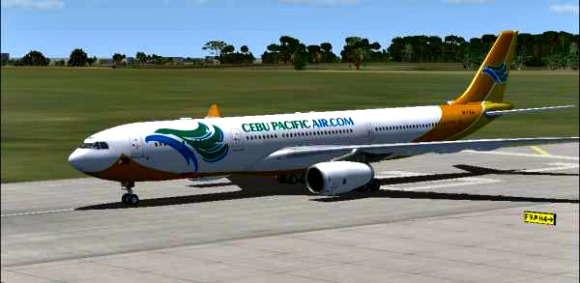 "We are delighted to welcome Cebu Pacific as a new A330 operator," said John Leahy, Airbus Chief Operating Officer, Customers. "In the airline's layout the A330 will offer the lowest possible operating costs per seat. This will enable Cebu Pacific to offer a highly competitive product, bringing its great value-based service to long haul routes."
The A330 will join an existing fleet of single aisle A320 Family aircraft flying with Cebu Pacific on its extensive domestic and regional nework, currently covering 34 domestic and 22 international destinations across Asia. In addition to its leased A330s, the carrier has 47 A320 Family on firm order with Airbus for future delivery, including 30 latest generation A321neo.
The A330 is one of the most widely-used widebody aircraft in service today. Airbus has recorded over 1,200 orders for the various versions of the aircraft and more than 900 are in service with almost 100 operators worldwide today.
Cebu Pacific fares for domestic and international routes are available at www.cebupacificair.com or through the reservations hotlines (02)702-0888 Manila and (032)230-8888 Cebu and pay through CEB ticketing offices, online, or via ATM or over the counter in partner banks.
Partner banks include Robinsons Savings Bank, Banco de Oro and Metrobank (for over the counter payments), and Bancnet and Megalink members (for ATM payments).